Cultures explain dragons differently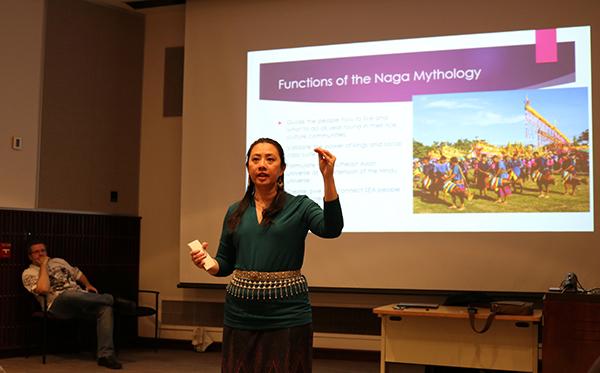 On March 20, Humanities Division faculty members held a Spring Colloquium presented by communication professor Paul Lucas and English literature professor Tuangtip Klinbubpa-Neff.
At the presentation, the professors discussed the ways dragons are viewed in world literatures and cultures.
The presenters split the session into two parts: how dragons made an impact on American culture and how they are represented in Southeastern Asian culture.
Dragons have fascinated Lucas since he was a child, he said.
"I was interested in dinosaurs when I was younger, and then I found my love of dragons," Lucas said.
One of his favorite dragons, the Winged Dragon of Raw, comes from the television show "Yu-Gi-Oh!," he said.
Lucas also said dragons in America are not meant to be scary, it just depends on the motives, on how it is depicted and the owner of the dragon in fiction.
"(Dragons) are not supposed to be scary, but allies and friendly," Lucas said.
At an almost-full Blackington auditorium, senior Jeffrey Adams was in attendance.
"Dragons have interested me since I was a child, so to see them discussed in an academic context was very cool," Adams said.
While Lucas is interested in the westernized culture of dragons, Klinbubpa-Neff said she does not like mythical creature's Westernization.
Klinbubpa-Neff, who is commonly known as Noon, said she wanted to educate people on the importance of dragons in Eastern culture.
She said she is annoyed that some people take a symbol important to Eastern culture and demonize it.
Noon began her presentation by showing a trailer for the upcoming film, "The Great Wall."
The film portrays a fictional story about the purported reason Chinese built the Great Wall: to keep out dragons.
"(The dragon is) presented in a hostile environment and as an intruder to the colonies.
"(Dragons) wouldn't appear in a bad context in Southeast Asia," Noon said.
She also brought up the myth of Nāga, a dragon, which is a story about a protector.
Noon said Nāga guide people on how to live – they value the power of kings and formulates the Southeast Asian culture.
"Nāga are good creatures and don't cause harm," she said.
In addition to the information she provided at the presentation, Noon said she plans to teach "Das Nibelungenlied" in her global literature two course next spring.
"It's the dragon's origins in Western culture," she said.
Adams said he was not familiar with the idea of dragons as the protector in Eastern culture.
"I have always thought of dragons in a more Western context, where they are usually portrayed as evil, so to get this alternative perspective was eye-opening," Adams said.