Hold to be placed if test not passed?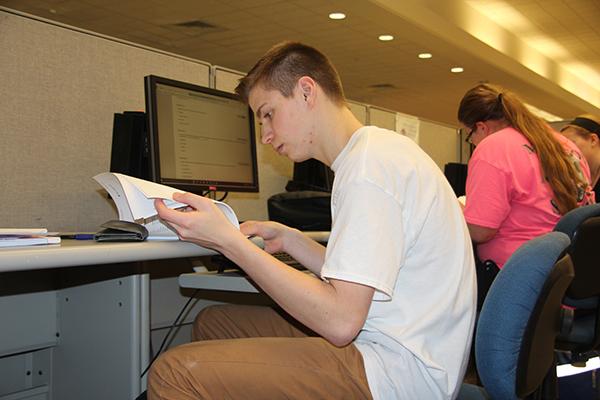 Some students were upset by a reminder that rested in their email accounts Feb. 7.
It was a reminder for upperclass students to complete Campus Clarity online instruction; but for some, this was the first time hearing of the instruction.
According to Student Conduct Director Todd Shaffer, the instruction was designed like the first-year Campus Clarity training program but is only for upperclass students.
"Pitt-Johnstown administrators want to remind all students of the importance of consent and healthy relationships," Shaffer said.
If the online instructions and an accompanying test go uncompleted, an academic hold is to be placed on a student's account, according to the email links.
Shaffer said students should have received an initial email requesting them to complete the class Dec. 14, but he was looking into why some did not.
Junior Morgan Shumaker said she thought the class was important because it covered sexual harassment, but it was time-consuming.
She said there should not be a hold on students' accounts, if they don't complete it.
"(Students) have to manage school and work and may not have time to complete the (instruction and test).
"It was a lot longer than other ones that I had to complete for the university."
Senior Lindsay Finnegan said she thinks the instruction topic is important especially on college campuses.
She said the instruction could be set up differently.
"I think it should be optional but have (students') names be entered into some kind of raffle as an incentive because some people don't check their emails."
Junior Coltt Lepley also said he believes the instruction should be optional.
He said he thinks the instruction should be offered in a lecture or presentation style and include students, so they can interact.
"All making it mandatory did was turn people off, and the kicker was giving us a week to do it."
Lepley said students should not be threatened with a hold to complete the instruction.
A lecture or presentation should have been optioned every year at the university, according to Lepley.
"If (university administrators) truly cared, they would be active in educating the students, rather than threatening them to take a class they can skip through.
"Sexual harassment education is very important, and (administrators) are usually good about these types of things, but they handled this incorrectly."
Shaffer said, since the instuction had roll-out issues, deadlines had been extended.
Students who haven't completed the class should receive weekly reminders, according to Shaffer.
He said students shouldn't worry too much about the instruction because they can work at their own pace by starting and stopping it.
"I encourage students to not get bogged down about the deadline but to complete the course as soon as they can."