Students embrace newly found clubs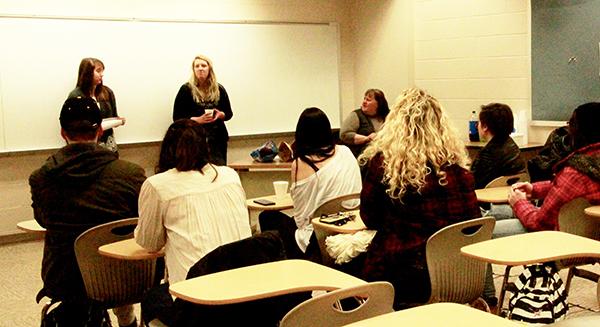 With the help of professors, students are creating clubs for community members who wish to express their creativity in different forms.
Those who are interested in photography but know little about it now have an opportunity to learn.
At the Photography Club's first meeting, Club adviser and professor Bruce Robart sat on a table in 151 Krebs Hall sharing with student attendees how he got involved in photography when he was young.
He said that he enjoys taking nature photos, which helped generate the club's first activity idea: Members should go outside and take winter photos.
Other activities, such as taking composite, monochrome and motion photos, were also discussed among 12 attendees Monday afternoon.
Club President Alberto VanHecke, a junior, said he would like to teach members how to use Photoshop.
"(Photoshop) is fun and can be really funny."
VanHecke said that he'd like members to go outdoors and be active while taking photos.
Sophomore Sharon Bryner said she looks forward to taking photos outdoors.
"I am thrilled to find new and exciting places with my friends in the (photography) club to take really cool pictures and have a good time.
"I (also) look forward to doing nature, pinhole and black and white photography, along with experimenting with several other styles," said Bryner.
According to VanHecke, members could use their cellphone cameras because another club goal is to maximize cellphone photography.
He also said that cellphone cameras are easier.
"(Cellphone cameras) are a little more casual, and it's so much more accessible."
VanHecke said members' photos will be shown at meetings, which might interest those who don't like taking photos but enjoy looking at them.
Bryner said she would like to learn more skills through the club.
"I hope to learn from my peers in taking better pictures and how I can improve myself as a photographer."
VanHecke said an overall goal is to create an easy learning environment for photography.
"(Club leaders) want to help people learn how to master photography, and we want everyone to have fun and be comfortable doing it."
Another creative club was chartered Feb. 7.
Thursday, senior Lindsey Bonsell introduced an arts club called The Finer Things to a group of about ten students.
The club is a humanities organization that  is to represent art history, philosophy and literature. It also represents music and theatre.
Senior Lindsey Bonsell, club president, said she had wanted to start an art-related club for quite some time now.
She said she thought the humanities department on campus was underserved and was determined to start a club for the arts.
"There is no place for students to appreciate a play or a work of art."
The Finer Things club provides students the opportunity to express their interest in the arts.
According to Bonsell, club members will be able to go on trips.
This spring, club members are to be provided with an opportunity to attend a day trip to the Botticelli Exhibition in Virginia.
The trip is for members to enjoy a day of observing art and interacting with others who share the same interest.
"The club's funding is set for next fall and spring; however, this semester, no budget has been appointed," Bonsell said.
Vice President and senior Molly Ager said the club was only approved Feb. 7, which hasn't provided them much time to sort out a budget for the current semester.
Fundraising events will become a way to help pay for more trips to see other exhibitions and performances, she said.
According to Bonsell, there is an upcoming band night at Windber Hotel, which will be a means of acquiring money to help fund trips.
Along with fundraising, Bonsell said she is determined to ensure club members are involved with volunteering opportunities that are being determined.