Some pursue music and are inspired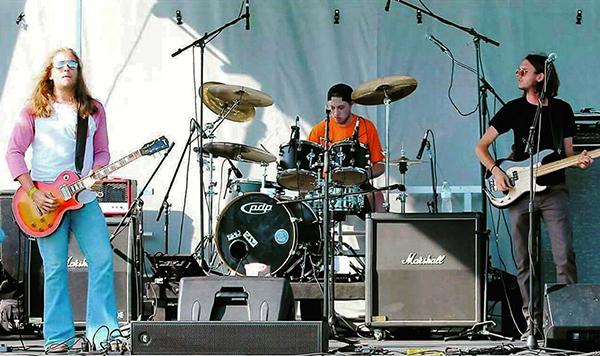 When he was nine, junior Mitchell Evans began taking guitar lessons: the spark of his musical involvement that he said means the world to him.
"For me, playing music is the ultimate freedom. It allows me to express myself freely, and to release any tension I have built up inside.
"(Music) is my escape, something that I truly love."
Music can mean something different to everyone; for Evans, it is a way to relax, and he said it makes him happy.
Evans, who primarily plays drums, said that playing and listening to music always puts him in a better mood.
He said that he would like to continue playing music.
"My hope for the future is to continue playing for other people, even if it's just an audience of one.
"If I can make one person happy through music, that would be pretty awesome."
Junior Ben Ressler, who began playing drums at 4, said that music is something he understands – and is good at.
"I never took a formal lesson. I started (playing) guitar in eighth grade and taught myself."
Ressler said that music means everything to him, and that he takes it seriously because he'd like to turn it into a career.
"I'd like to learn about audio production and things of that sort to be able to make my own music and albums."
Ressler plays for the bands Van Waylon in which he plays drums, and Silver Screen in which he plays the guitar. He said he also played for the band A Faster Ride and filled in on drums for other bands.
According to Ressler, music is enjoyable.
"No matter what I'm playing, I have fun doing it."
Sophomore Jacob Hostetler said his dad influenced him to get involved with music.
"I grew up listening to a huge variety of music. Anything from Bob Marley, to Bob Dylan or even Green Day."
Hostetler said he began playing guitar when he was 12.
"I always loved guitar because of the versatility of the instrument," he said.
"Just seeing professional musicians make a career out of an acoustic guitar and their voice … (made me want) to try it."
For his future, Hostetler said he wants to enjoy his time making music.
"I'm not really expecting the (music industry) world to open up to me or anything.
"I'm just hoping for a solid band one day and to just really live the experience that comes with it and continue progressing as a musician."
Adjunct professor Michael Bodolosky, who has made a career out of music, said that music is a part of our daily lives.
"(Music) is a universal language. It surrounds our lives in everything.
"It's my hobby, but it's also my career, a career I've enjoyed."