Instructors create playlists and policies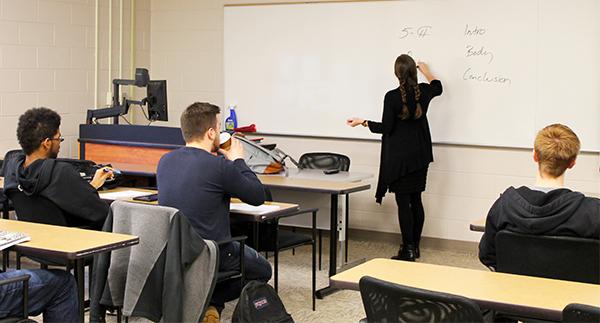 Professors teaching in unique ways can provide students with an effective learning environment.
When walking into writing professor Marissa Landrigan's classes, students may notice something different.
Music faintly plays from Landrigan's Pandora playlists that she said she had created herself to help students when they are writing.
"Too much quiet makes working hard, especially writing…hopefully, (playing music) makes the classroom less intimidating."
Landrigan said she wants her class to be a place where students can play, something she said is an important component for creativity.
"I try to do a lot of stuff to facilitate (the creativity)," Landrigan said.
She said she started playing music while students wrote prompts, because it provided a more creative atmosphere.
Sophomore Patrick Stahl, who took Landrigan's Introduction to Professional Writing course last year, said that playing music while writing helped his creativity.
"I had heard theories of the impact of listening to music while engaging in academic work…I believe that professor Landrigan was the first to press me into exploring those theories directly by playing music.
"It is an intriguing strategy to me, and I think it is justified when kept at the right volume and in the right style."
Stahl said that playing music during class can be tricky because, if it isn't the right kind of music, it could be ineffective.
According to Stahl, the music played during his Professional Writing class was the right kind.
"Landrigan is skilled at presenting music in such a way that it activates the creative underpinnings of the brain subtly without distracting students from their work."
The music played was similar to coffee house music, said Landrigan.
Teaching more creatively is something that junior Bradley Walker – a middle level English education major – said she'd like to do.
"I feel that it's important to show kids that learning can be fun … I value a unique and creative mind, so that is something I want my students to learn and develop."
She said she would assign book reports that make students craft something and also utilize educational games like Vocabulary Jeopardy.
Music Professor Jeffrey Webb has found a different way to provide his students with an optimal learning environment.
He said he has a strict cellphone policy: If a student's phone goes off in class, 25 percent gets taken off the student's grade, and he gets to answer the call.
Webb said that he has answered students' phones before, and one time, it was a student's mother calling.
He said he nicely told the mother that he was teaching a class, and the mother baked banana bread for him because she felt bad for interrupting.
According to Webb, his texting penalty is higher because if a student is caught texting, it's automatic failure.
"Texting in class drives me insane. It's the ultimate disrespect because it's done purposefully."
With his policy, Webb said cellphone use in his class had gone down, and students were more attentive because of it.
"It's (a) 50-minute (class); if you're going to be there, be there."