Singers directed to be on seats' edges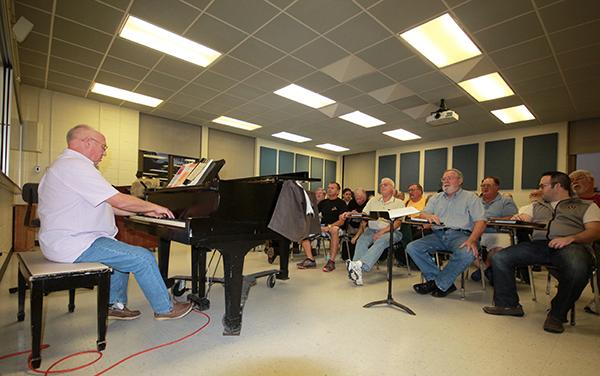 Snowflakes fell on women's fur coats, men's suits and children's carefully styled hair Friday night outside the Pasquerilla Performing Arts Center.
The crowd was moving to center doors for a Johnstown Symphony Orchestra concert that included the organizations volunteer chorus.
At the concert's conclusion, amid a loud applause, symphony director James Blachly in a tuxedo and white bow tie, hugged a singer on stage.
The singer, in a black suit and red bow tie, was Samuel Louis Coco, Johnstown Symphony chorus conductor. It was a performance his singers had been rehearsing for over two months.
It was then 58 days before the Dec. 10 concert.
They were to sing parts of the German composer George Frideric Handel's "Messiah", a classic piece that Coco said he had sung numerous times since he joined his high school orchestra in 1967.
"It is the kind of work that we do about every three years," he said.
This year, however, there is a change for Coco and the other singers, all of whom are volunteers.
James Blachly, who had been conducting mainly in New York City and Boston, has been named the Johnstown Symphony Orchestra's new music director.
Blachly is the Dec. 10 concert's conductor after former music director Istvan Jaray's departure, a change after 31 years.
On Oct. 31, after he introduced Blachly to the singers, Coco yielded his place to Blachly.
"Good evening," Blachly said to the singers in 240 Biddle Hall.
"(Turn to) number 53: 'Worthy is the lamb that was slain,' please."
Unlike Coco's enthusiastic conducting when he had stood on a chair, Blachly seemed to have a more understated enthusiasm when conducting.
The singers sang intently, seemingly taking this rehearsal more seriously than usual. They sat up straight as Coco had taught them.
"Sit up. Sit up: (have) your backs away from the chair. Sit on the edge of the chair," Coco had said during another rehearsal.
Not long after, Blachly re-arranged the seating.
Bass singers, who had been sitting by the rooms' windows, were asked to stand on the other side of the room. Tenor, alto and soprano singers were also re-arranged.
Blachly said he wanted to achieve a better choral blend.
"Make sure you are hearing all the other three parts (that you are not in).
"Make sure it's a blended, unified (and) unanimous enthusiasm," Blachly said to the singers, concluding the rehearsal.
It was then 40 days before the concert.
John M. Gelles, Jr., a Pitt-Johnstown shuttle driver who had been in the chorus for eight years, said he had a difficult time adjusting to Blachly's conducting style.
When Gelles ends his shift on Mondays at about 6 p.m., he drives to Sheetz to buy hotdogs for dinner, so he can return to campus for rehearsals from 7 to 9 p.m.
Gelles said Blachly might be asking for too much in the rehearsals.
"He's too particular; we are not professional singers; but if you think about it, that's what he is supposed to do," Gelles said.
On Nov. 21, Blachly asked singers whether they could have an extra rehearsal with him the day after their scheduled Nov. 28 rehearsal.
Most raised their hands, including Cheryl Sherbine, a gray-haired lady who always has an agreeable smile. Sherbine, who is from Portage, said she had been in the chorus for 53 years.
"Last time, Sam (Coco) told me in the car (after rehearsal) that you guys can make more sound. (It) isn't to push harder but to resonate better," Blachly said.
Coco said his job was making sure singers attend rehearsals and work with Blachly.
"He's kind of picky. I like that. It was so interesting that many of (singers) walked up to (Blachly) to tell him that they enjoyed (his conducting). That tells me that they understand (his standards)," Coco said.
On Nov. 28, Sherbine, who said she had never missed a concert even when she was pregnant over the decades, said she may not attend the next day's rehearsal as she had planned as she was to attend a funeral for her cousin.
It was 12 days before the concert.
The first rehearsals with Blachly included his sharing of a story that he had heard on the radio while he was driving – a story told by a father of a premature baby who survived.
"I had to pull over to listen to (the story).
"I realized I can't touch my baby, but I can sing and talk to her, because sound is a form of touch," Blachly said, quoting the father.
"We, as musicians, can know that our sounds can touch our audience and make them not just hear it but feel it. Can you do that with your voices?" Blachly asked the singers.
Like his first two rehearsals, Blachly did not leave at least until the last second of the rehearsal had past; he did not seem to worry about being strict either – he had his singers stand till the bitter end.
The night's darkness and chill had crept in long before, but no trace of snow could be found on the late November night, nor did anyone know how much snow there would be on the concert night.
A few female singers walked past Blachly before he got to talk to Coco, who was ahead of him.
Hearing the singers' laughter and greetings, he stopped chasing after Coco and exchanged a few words with them before they parted.
"We are all in this together," he said to them, smiling from a perfect distance – far enough to be polite, yet close enough to be personable.
Before Sherbine changes her stage shoes to snow boots after the concert, she said she cried during the concert.
"When the alto (soloist) sang the last song, it was so sorrowful that I cried."
She blinked as if trying to suppress tears welling up in her eyes, as if the concert had not yet ended.