Library staff members identify banned books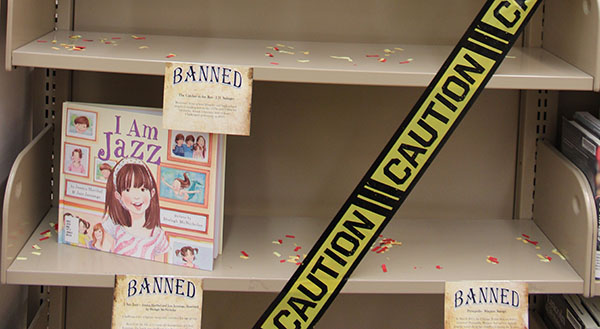 Pitt-Johnstown library directors have put out a display featuring banned books.
Banned books, according to Library Administrative Assistant Mandy Theys, is an annual campaign.
Banned Books Week was spearheaded by the American Library Association in 1982.
The displayed books weren't banned by the library's personnel, but rather by organizations in narrow parts of the country.
Starting in the last week of September and running until the first week of October, the campaign is to celebrate freedom to read, according to the association's website.
Last year was the library staff's first year of organizing the banned books exhibit. Theys said that, this year, it would be a bigger deal, and that students are showing interest and checking out the banned books.
Some of the banned books include Susanne Collins' "The Hunger Games", Dr. Seuss's "The Lorax" and Harper Lee's "To Kill a Mockingbird".
The banned books are on the American Libraries Association's banned-book list, said Library Director Eve Wider.
According to association statistics, banned books are generally challenged 40 percent of the time by concerned parents.
Additionally, the association researchers say that these challenges happen 45 percent of the time at public libraries, similar to Pitt-Johnstown's Owen Library.
School curriculum accounts for 28 percent of all instances where books are banned.
Also, 19 percent of bans occur in school libraries nationwide, according to the association's website.
The website's statistics do not specify which institutions compose the remaining eight percent of bans.
Books are challenged for many reasons, including homosexuality, religious viewpoints or offensive language.
Wider said that the books being challenged have more to do with diversity and less about profanity or nudity.
Diversity, a broad term, is defined by the association as recognizing all experiences, including, people of color, gender diversity, and people with disabilities.
In 2015, according to the association, three of the 10 most-challenged books dealt with homosexuality or transgender issues.
Those books include: "I Am Jazz" by Jessica Jennings and Jazz Herthel, "Two Boys Kissing" by David Levithan and "Beyond Magenta: Transgender Teens Speak Out" by Susan Kuklin.
It is becoming more commonplace for books like these to be challenged by parents, patrons, and administrators, Wider said.
"(Banning books) worries me. (It) limits the people's access to information, which is challenging the point of a library. Not everyone can afford to buy books on Amazon."
Theys said her aim when making the display was to draw people in and learn about what's happening in other communities.
Both Wider and Theys agreed that banning books is a violation of  First Amendment rights.
They said written speech is the same as spoken speech, and taking it away is a violation of someone's First Amendment rights.