Students, faculty showcase research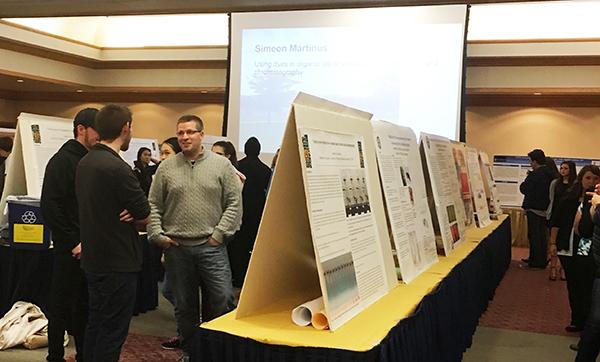 The academic work displayed last Wednesday at the 2016 Fall into Research Fair showed in-depth understanding of subjects and passions for learning.
Approximately 30 students and faculty members displayed research projects.
Topics such as populations of the yellow-naped amazon parrot and individual manifestos were on display.
Biology major Molly Dupin travelled to Costa Rica to analyze the long-term monitoring of population data and vocal dialects in a parrot.
"In our research, we discovered a 50 percent decline in the population of the parrots. Now we are analyzing the rest of our research," Dupin said.
Communication major Rich Audu is writing a manifesto that is still in progress.
Audu said he had been writing the manifesto for about three years.
"I analyzed different (manifestos) to give myself a framework before I began to write mine, which took about three months of research, and I still anticipate for the manifesto to take another year or two to complete," Audu said.
"The manifesto is based on social, economic and spiritual effects that are sustainable for black people in the future."
Also on display was Communication Professor Paul Lucas' research that he is presenting next semester at the Rhetoric Conference for Comic Books.
Lucas' research was based on the Marvel comic series "Avengers Arena," which put superhero teens in an arena together to battle to the death.
Lucas compares and contrasts the comic series to "The Hunger Games" and "The Lord of the Flies."
"The main difference between the comic series and the books is that they are used to fighting (in the comics), compared with the books, where (the characters) have no skills and are just thrown into an arena or new situation," Lucas said.
"Also, since we already know the teen superheroes (from the comics), we have more of an attachment to them."
Freshman Jaidyn Fronzaglio said he enjoyed the displays.
"I think that (Fall into Research) is a great thing because students and faculty can come show what they have been dedicating their time to," Fronzaglio said.