Walks to Wal-Mart result in worries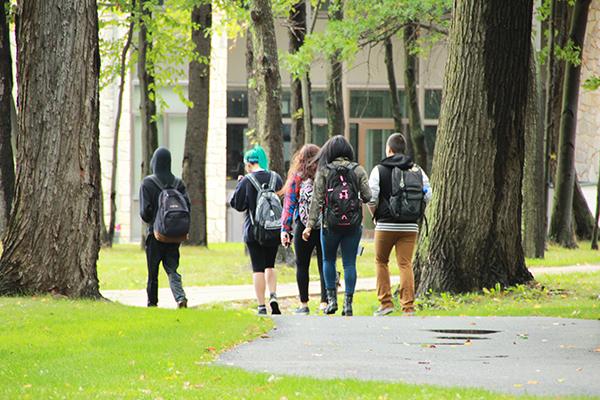 Some Pitt-Johnstown community members who don't own a car choose to walk to Richland Town Centre for grocery shopping, although there is no sidewalk from the campus to the center.
Senior Jesse Lock said he adapted to going to Richland Town Centre on foot after he had spent a second summer as a Pitt-Johnstown resident assistant without a car.
He said he usually walks through Richland Elementary School property to the center, a route quicker than walking along Theatre Drive after turning onto it from Schoolhouse Road.
Both routes require pedestrians to walk along Theatre Drive between Schoolhouse Road and Eisenhower Boulevard.
Lock said walking along Theatre Drive, a two-way road, feels like he is walking on a balance beam.
The metaphoric beam, in reality, is a concrete curb, about 20-inches wide, that separates a soccer field from roaring cars on the road.
Lock said he has passed others walking along the same route.
He said he enjoys walking to the plaza, which is more leisurely and cheaper than taking a bus, taxi or Uber.
Another way to go to the center, Lock said, is riding with people who have cars.
"Most people (at Pitt-Johnstown) know somebody who has a car, but, in general, (not having a car) is pretty inconvenient."
He also said it is ususual that there are no sidewalks in the township, but there are crosswalks.
Also, there are pedestrian signals on traffic lights with no clear pathways.
Unlike Lock, some pedestrians have never walked to the center due to safety concerns.
Freshman Hualei Wang, who does not own a car, said she had never walked to the center because she fears that it is not safe to walk there during the evening, which is when she usually goes to Wal-Mart.
"(Transportation) during the week is (fine). but it's very inconvenient over the weekend because there are few buses and shuttles," Wang said.
The  campus shuttle is available from 2:05 p.m. to 5:50 p.m. during fall and ppring semesters, which goes from the Student Union to center and back.
She said she has used Uber cars to go to the center when other transportation was not available.
"Uber is fine, but Uber (cars) are usually unavailable after 8 p.m., and it's even harder to get an Uber (car) on weekends."
Senior Austin Fassinger, who lives on campus, said he has owned a car since his freshman year.
Fassinger said he has given people who don't have a car a ride to the center, and he did not want to walk there.
"If I've got my car, it's not necessary to walk (to Wal-Mart)."
Safety concerns also hold true for Richland Township residents who walk or jog.
A potential sidewalk from the campus to the center is being discussed, according to Pitt-Johnstown President Jem Spectar at the Sept. 21 faculty senate meeting.
Spectar said there have been meetings with county commissioners, and Pennsylvania Department of Transportation Representatives to discuss potential partnership and funding for the sidewalk project.
He said the project would benefit students and township residents, including Richland Towers' senior citizens, and he said the university has the resources to make it real.
"It is a great project that is very fundable."
Finance and Administration Vice President Amy Buxbaum said the project is still in its preliminary stage, so no cost estimate has been made.
"We certainly have seen that as something desirable."
Lock said he does not think sidewalks will be done in the near future.
"That would be long after I'm gone."
About the Contributors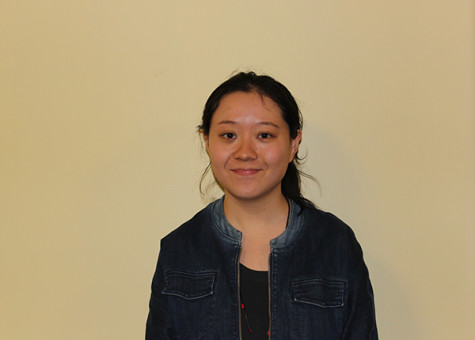 Peijia Zhang, Editor-in-Chief

Graduated High School: 2012 Southwest Weiyu Middle School (Shanghai, China)
Year and anticipated graduation date: Senior, Spring 2017
Major/Minor:...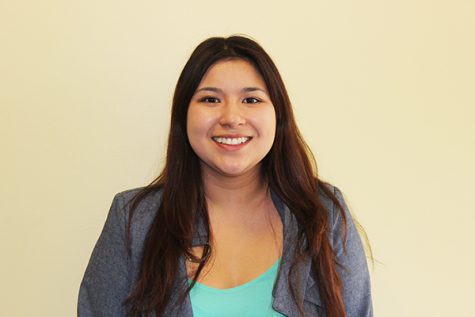 Natasha Bazika, Chief Photographer

Graduated High School: 2014, Xavier College Llandilo (Sydney, Australia)
Year and anticipated graduation date: Sophomore, Spring 2019
Major/Minor: Journalism
...