Drugs' effects are discussed at program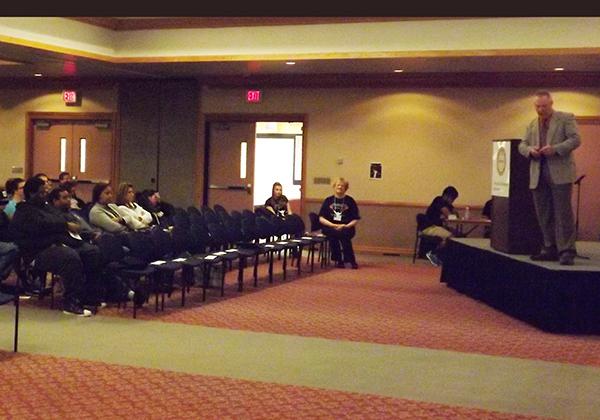 The theme last Saturday during the Healthy Community Series: Drug Awareness Program in and around the Cambria Room was consciousness of drugs' effects.
The program featured four speeches about the different aspects of drug prevention that is currently implemented in the community, along with several different informational booths and a police dog demonstration.
As a free educational service to the campus and surrounding Johnstown communities, the Cambria Somerset Council for the Education of Health Professionals Inc. members were the main sponsor of the event.
"We (are) delighted by the response we have received in such a short period of time," communications professor and Council Executive Director Susan Wieczorek said.
"We (had) over 200 people registered and working on this event.
"Our mission is to provide a critically needed drug education service to our community at large, while involving as many on- and off-campus groups as possible."
Many other community organizations worked alongside Wieczorek and the students who volunteered to run the event, including Twin Lakes Center for Drug and Alcohol Rehabilitation and Cambria County Prevention Coalition, among others.
The first speaker, Dr. Robyn King of the Conemaugh Memorial Medical Center, spoke about designer drugs —such as ecstasy, 4-hydroxybutanoic acid, (a date rape drug), and bath salts — to more than 150 people in attendance.
A designer drug is a pseudo-legally restricted or prohibited drug, devised to evade drug laws. King presented on how the drugs are made, as well as the gruesome side effects of drugs such as krokodil, which is a derivative of morphine with fast-acting effects such as sedation and numbness.
King said she deals with drug addicts every day, and that if someone is dealing with drug problems, they shouldn't be afraid to come to her for help.
"I am not here for judgment; I am here to treat people," she said.
Richland Township police department detective Thomas Keirn, the second speaker, discussed the imprisonment and investigation process of the community's drug war.
Keirn is part of the Safe Streets Task Force in Johnstown communities. He gave information on heroin's influx and its deaths in the region, but added that law enforcement will not end the current heroin epidemic that is present across the country.
"The heroin epidemic is not an arrestable problem; the police are burnt out," he said.
Cambria County Assistant District Attorney Wayne Langerholc Jr. talked about the legal proceedings that occur after a drug bust. His speech preceded lunch and before the viewing of the documentary, "Other Side of Cannabis", which highlights the consequences of ingesting marijuana at a young age.