Students search for eggs campuswide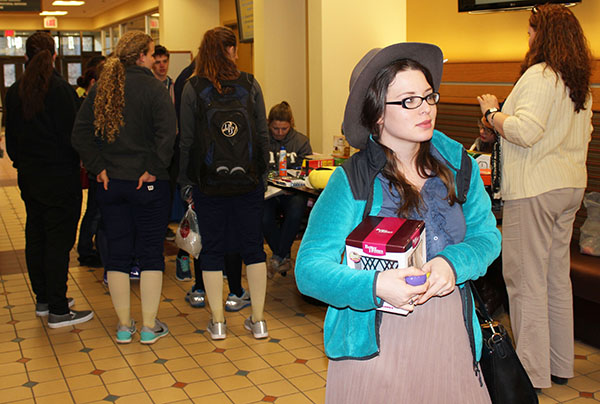 Since March's first Friday fell within spring break, Programming Board members replaced Bingo Night with an Easter egg hunt on campus, according to Programming Board Vice President Clarissa Nepereny.
Nepereny said that the egg hunt was like Bingo Night without the bingo.
"It (had) all the standard prizes," she said.
Nepereny said that the eggs were to be hidden gradually throughout the week. She said that the hunt's start time was to be announced via Twitter.
Members said on Twitter when prizes could be claimed, but there was never an official announcement for the hunt's start time.
According to Student Life Director Sherri Rae, three areas of campus served as hiding places for eggs: University Square, in front of the Sports and Wellness Center, and between Krebs and Biddle Halls.
Additionally, eggs were found between Krebs Hall and Whalley Chapel.
Rae said that 75 eggs had numbered papers inside that corresponded with a random list of prizes, while 120 contained Hershey's kisses.
"You're only allowed one prize egg," Rae said.
Prizes were available at a table next to the information desk between 6 p.m. and 8 p.m. on Friday.
Prizes included gum, chapstick and throw blankets, as well as posters, food and water cases.
Sophomore Beth Boggs said she found five candy eggs.
"Mine were all by the gym," she said.
"I found them on my way back to my room from my car. I honestly didn't remember it was happening until I saw an egg laying on the ground, then I remembered the egg hunt and just picked up any I saw," Boggs said.
Boggs said she found most of her eggs around 4 p.m.
"It was fun, but there weren't any eggs after the first few," she said.
"I think it should come back, but it wasn't well advertised."