Workshop held to stop distracted driving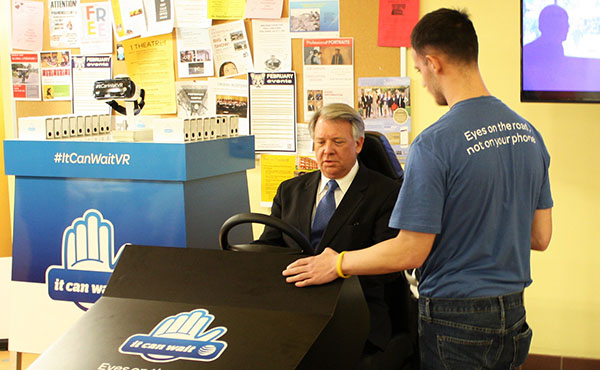 Since cellphones became popular, texting while driving a vehicle has become more frequent and has arguably led to more car crashes. Some crashes are even fatal.
Last Thursday outside of the Cambria Room in the Student Union, 35th District state Sen. John Wozniak partnered with AT&T's texting and driving prevention campaign titled "It Can Wait" and hosted a 3-D virtual reality simulator exemplifying distracted driving dangers.
"What an excellent tool," said Wozniak, the first person on campus to partake in the simulator.
"I hope every student and adult (uses this tool) because everybody is guilty of (distracted driving)."
Wozniak said that although cellphones have become must-have objects for individuals, but it is necessary to resist using them while driving.
"I was a legislator before people had cellphones, and I can tell you: The world didn't fall apart while driving from Johnstown to Harrisburg then, and it is not going to now," he said.
AT&T Regional External Affairs Director Jim Penna said Wozniak took the initiative to raise awareness of texting and driving dangers throughout the region.
"We (AT&T regional officials) have made arrangements with Wozniak's staff to schedule events throughout the district, such as at high schools," Penna said.
Penna said that all drivers, young and old, can sign the "It Can Wait" pledge at either ItCanWait.com or on the It Can Wait application.
The app can also be used as one of the many tools to be a safe driver on the road, according to Penna.
Approximately 30 university students, staff and faculty members, including President Jem Spectar, took part in the simulator.
Junior Miguel Alisasis was the first student to use the minute-and-a-half-long simulator.
"There are a bunch of (false alarm) accidents (throughout the simulator), but at the end, there is one really big one," he said.
"I feel as though (if the driver in the simulation) was actually alert and wasn't on his phone, the accident could have definitely been avoided, and a life could have been saved."
Wozniak said he is trying to pass legislation to make more laws that help to prevent texting while driving and distracted driving in general.
"You shouldn't be trying to do two things at once (while driving a vehicle)," he said. "Not because it is a law, but because it is the right thing to do."