Theater students perform with passion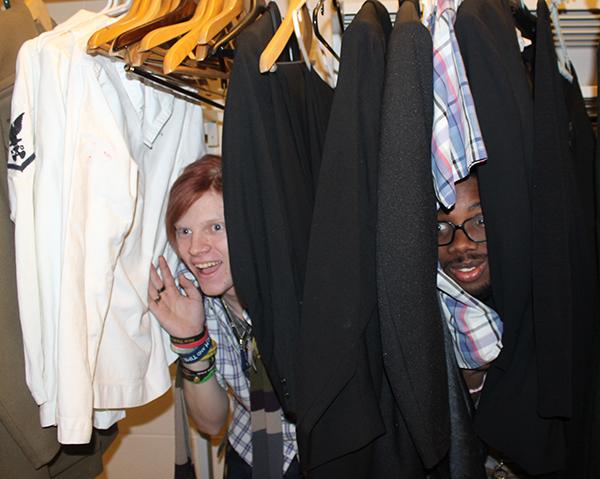 Students are to perform in four plays during Golgonooza, the upcoming theater festival featuring student writing on Feb. 24 and Feb. 25.
The plays featured in Golgonooza are: "Moon's Companion" and "Wizard of Loz and Order," directed by senior Bethany Thomas; "Love, Maybe," directed by senior Justina Schmidt; and "The Final Hour," directed by senior Jeffrey Wainwright.
To put on a production, students put considerable time and effort into practices.
Theater professor John Teacher said the main-stage play last semester, "Everyman," had 22 three-hour rehearsals, totaling 66 rehearsal hours. Not everyone had to attend every rehearsal, he said, but some did.
Combining basic rehearsals with these dress and tech rehearsals, "Everyman" took 78 hours, Teacher said. Auditions took another eight hours, and costume and lighting meetings for both shows took about nine hours, he said.
Pratices, however, do not account for individuals' time spent learning lines or making costumes.
The preparation took 95 hours, plus five approximately hour long final performances. In total, "Everyman" and "Impromptu" absorbed at least 100 hours from their cast.
These plays were the fall semester main stage production. Before that, there were red-eye productions, which are skits written, practiced and performed in 24 hours. After this, there is to be a spring main stage production.
These productions can add up. Senior Erin Cain said she has been in 10 Pitt-Johnstown productions. She played Kindred in "Everyman."
Balancing academics and practices could be a challenge, Cain admitted, especially since her professors did not teach theater. She often stayed up late completing assignments, she said.
Cain said theater is worth the time commitment because she enjoys being with her friends and unwinding through performances.
"I like being something I'm not," she said.
Her favorite character was a zombie apocalypse survivor in a red-eye.
"She was just a jerk," Cain said. "She did what she had to to survive."
Because she student teaches this semester, she said, she cannot participate in the spring main stage. She said she is disappointed about it, especially since her friends in the production will be too busy to spend time with during the production.
She developed many friendships through theater, she said. Having shared interests and spending a lot of time together helped.
Even outside productions, she sees many between classes, lives with one and huddles with many in a Student Union booth.
"You can usually find us singing a show tune," she said.
Freshman Michael Patrick Cadden said the connections he made through theater in three months are as strong as many he developed over years in his hometown.
His first-ever performance was in this year's red-eye, in a skit called "Beowulf 3000." His next was as Fellowship 2 in "Everyman."
Cadden said he has been determined to participate in theater since a middle school music teacher showed him musicals, he said.
"I saw stuff from 'Phantom (of the Opera),' and I thought, 'What is this majesty?'"
He said he was denied the opportunity when his high school's drama advisers became pregnant, and his principal was unwilling to help.
After the accepting, judgement-free red-eye atmosphere, he said, he got involved with the theater club Pitt Players. Since then, he has been named club president.
He said it was a challenge to balance theater with concert band and jazz band, but that it was manageable with a routine. He completed homework during practice when he was not needed, he said, and carried his books all day because he returned only late to his dorm.
Junior theater major Ben Berkebile did not act in either main stage play last semester, though he said he has in eight Pitt-Johnstown productions before.
Instead, he said he played Leaf Coneybear in "The 25th Annual Putnam County Spelling Bee." The musical was a community production at Cresson Lake Playhouse in Loretto.
To prepare, he said, he watched the show several times, auditioned, and had about 75 rehearsal hours.
Berkebile said rehearsals did not interfere with his life too much, though he had to leave for the half-hour drive to Loretto right after classes. Because he was accustomed to late nights, he was able to complete work and see his friends.
He said he met many of his friends through theater, and they became close by spending so much time together.
"They just became family," he said.
Berkebile said he enjoys theater because actors enter a different world as a different person.
"I'm happier whenever I'm on stage," he said.
After graduation, he said he hopes to move his way into the theater industry with small side jobs and maybe some writing.
He knows it won't be easy, he said, but few things are. Productions take time, mental health and heart, he said.
"There is so much hard work put in," he said.
Even aside from actors, directors and costumers, stage crew members give their time as well.
Freshman Jess Numer said she put about 40 hours into last semesters' main-stage production, which she found quite manageable. She was worried about the time commitment of acting during her first semester, she said, but loves theater. She said stage crew was a new thing to try and a way to learn the backstage process.
She hopes to act and participate in stage crew in future performances, she said. The friends she made through theater encourage her to continue, she said.
Teacher said many people who aren't in theater underestimate the work required.
"Many have this mistaken idea that it's something you throw together over one weekend or just pull off a shelf like a DVD," he said. "I admire the students who commit to the amount of time our shows require."