Students auctioned off for good cause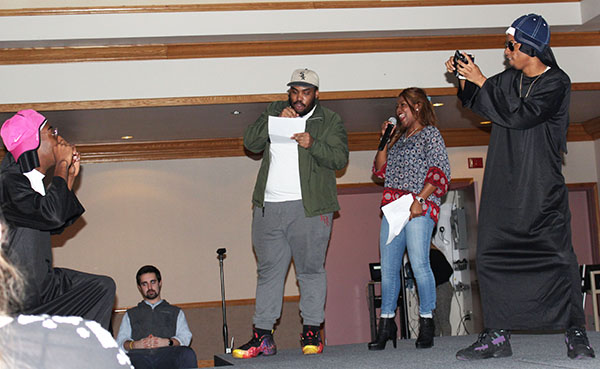 Last Wednesday, about 75 people attended Pitt-Johnstown Black Action Society's Find-a-Mate, Win-a-Date event at 8 p.m.
Twelve volunteers were auctioned off to a biding audience for the chance to take volunteers on a date.
Auction proceeds went to the Women's Help Center in Johnstown and Somerset. The organization assists local domestic violence victims and their children, according to the organization's website.
This is the fifth year Black Action Society members hosted the event. They raised $225.
The top three volunteers who received the most money were also able to give their bidders several gift cards.
The highest-grossing volunteer was senior Cassandra Cook, who was auctioned for $45. She was purchased by Dalton Shank.
To contribute toward their date, Cook received a $5 gift card to Eat'n Park restaurant, a voucher for an extra large pizza at Pappy's Family Pub and a $5 Chili's coupon.
Freshman Temperance Moore and junior Santana Lardo grossed the second and third most from the bidding.
Moore received a Papa John's large free pizza voucher, a $5 Chili's gift card and a $5 Eat'n Park restaurant gift card. Lardo received a Papa John's certificate.
Moore said that her highest bidder was Dayne Savory. Lardo's highest bidder was Jeffrey Wainwright.
Freshman Hannah Miller said she bid $10 to buy Moore. Miller said she attended the event to support the Black Action Society and her participating friends.
She heard about the event when it was mentioned at a student government meeting, she said. Miller said she considered the Women's Help Center a good cause, and she wanted to support her friend.
Freshman Ashley Thompson attended, but did not bid. She came to escape studying, she said, and because her friends asked her to.
Although she is not a Black Action Society member, she said, she knew 15 event attendees.
Thompson said she wanted to listen to some good music, see some nice outfits and to have a good time.
Freshman Paige Greenawalt also attended, but did not bid. She was encouraged to attend by her friend, who is a Black Action Society member.
Black Action Society Secretary Michelle Pena said she was happy with the turnout. They had fewer attendees and participants than last year, she said, so they plan to advertise more next year.