Local woman shares life through poetry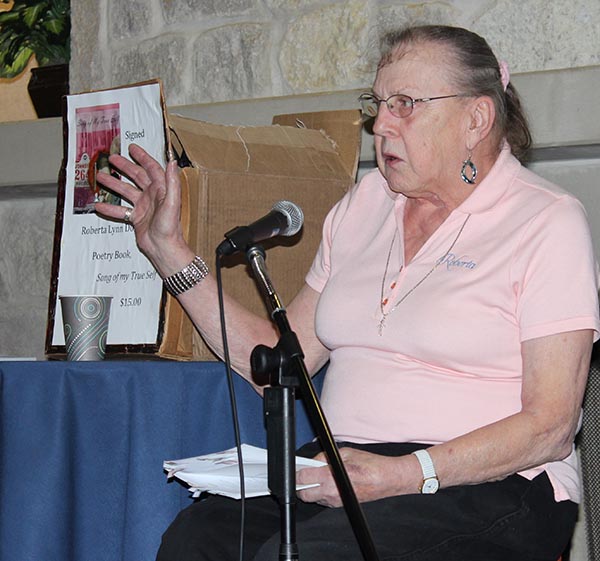 About 30 people attended a poetry reading last Wednesday by Johnstown local Roberta Dostal.
Dostal sat on a stool in the Living/Learning Center lobby and read poems from her book "Song of My True Self," which was released through Cawing Crow Press publishing company in November. Her poems are sorted chronologically, she said, and take readers through her life phases.
Her poems featured a toy kangaroo, an upright piano and a Farmall tractor. She told her audience about milking a cow, selling to a salesman and being seized by writing inspiration.
She read about her distant father, her encounter with a pedophilic priest and her struggle with gender identity. She also spoke about her decades teaching, her years in therapy and her sex change.
Reading the poem after which the book is titled, she thanked the people who stood by her life's path and helped her along. After finishing, she said many of those people were in attendance.
"This is a tribute to UPJ," she said.
One student, sophomore Carl Humphreys, said that he attended because he likes to support literature and that Dostal's story seemed interesting.
Humphreys joined in with applause after Dostal finished her final poem.
After Dostal finished, university President Jem Spectar said her story embodies the meaning of higher education; it is about resisting society's controls, devoting to learning and revealing your identity.
"We can recommit ourselves to the discovery of who we are," he said.
Dostal seems dedicated to education. First, she taught grade school Earth and space science for 38 years. Now, she is on her 11th year enrolled in the university's LearningPLUS Program.
The program is for community members who are 55 or older. Members are allowed to audit two classes a semester for no cost. Advanced and Continuing Education Director Stephanie Korber said six people are enrolled for this semester, and 12 were enrolled during the fall.
"The program is offered as a public service to our community, encouraging our local senior population to become more familiar with our campus and enjoy what Pitt-Johnstown has to offer," Korber said.
Dostal said she was able to write the book because of the program.
"I can truly say that without becoming involved in the LearningPLUS Program, this book of poetry would not exist," she wrote in her book's introduction.
Writing professor Marissa Landrigan said she has worked with Dostal inside and outside of several courses. Dostal has taken several nonfiction writing courses, Landrigan said, and has worked with her on a memoir and a research-based creative nonfiction piece.
"Roberta's writing is unique in that she is able to layer her own stories onto a broader, historic narrative of Johnstown," Landrigan said. "She can offer experiences and memories from decades past, and so her personal work also carries a deeper sense of significance."
Literature professor Jeremy Justus said that he has had Dostal in two classes, and that she offers her fellow students insight from her life connected to the course material.
Though her age supplies material for her poems and eligibility for the program, she said she feels young.
"I am a very happy teenage girl," she read from her poem. "I just turned 13."