Dogs give, get love in Halloween costumes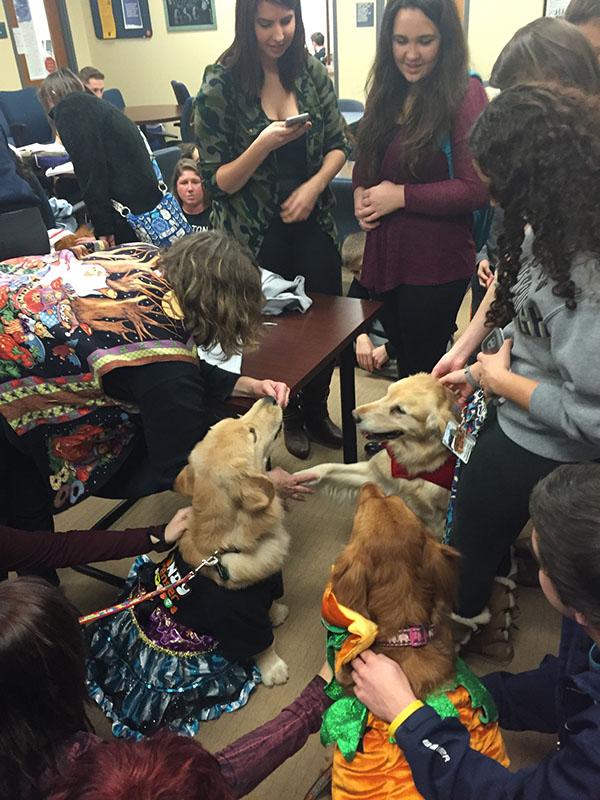 Five therapy dogs dressed up in Halloween costumes, drawing 246 people to the Academic Success Center 3:30 p.m. to 5 p.m. Thursday  to destress.
The crowd inside waiting for the therapy dogs to arrive cooed as the first dog, a golden retriever, ran to the hands of the awaiting students.
The event was organized by the Delta Epsilon Iota Honors Society, and the dogs are from The Golden Girls Pet Therapy organization.
In order to pet and hug the dogs, one had to sign a release form stating that the organization is not responsible for any injuries from the event.
Vice President of Delta Epsilon Iota, Ellory Dabbs, said that the first time they held the event, they had the dogs dressed up in costumes, and that was one of the events with the biggest turnout.
"The crowd loves when the dogs are dressed up. We dress them up to bring in a larger crowd."
Dabbs said she was surprised so many people arrived.
Sophomore Robert Elston said that his favorite dog was Olive, a golden retriever who was dressed up as a pumpkin.
"Pumpkin was my favorite. I got a hug and a picture, but dogs in costumes are hilarious," he said.
Although Elston said he enjoyed the event, he said the location had too much furniture and was too crowded with everyone in the small Academic Success Center.
Senior Audrey Lidwell also mentioned the crowdedness in the Academic Success Center.
"It's so crowded in here; it's like everyone rush to the ASC, not to do homework, but to see the dogs," Lidwell said.
The youngest therapy dog, golden retriever Mayla, had taken only four puppy classes so far. Her owner and handler, Chris Fogel, said her name has a significant meaning.
"Mayla means sickness and loneliness. When we first got her, we didn't know she was going to be a therapy dog. Her name just shows that this is what she was meant to do," Fogel said.
Fogel said that Mayla likes to unroll full rolls of toilet paper and run around the house with it when not training.
The dogs are trained to do specific tricks, like responding to "Do you love your momma?" with a barking rendition of "I love my mom," giving hugs, and giving high fives.
Senior Aubrey Lidwell said that her favorite costume was the pumpkin, Olive.
"The pumpkin one was too cute," Lidwell said.
Junior Raechel Albright said that she enjoyed the dogs being dressed up in Halloween costumes.
"The lobster was my favorite; although it seemed kind of hectic, I am definitely happier."
As freshman Courtney McMahan was walking out of the Academic Success center, she said she was already more relaxed.
"If they did this every week, I'd be so much less stressed."
About the Contributor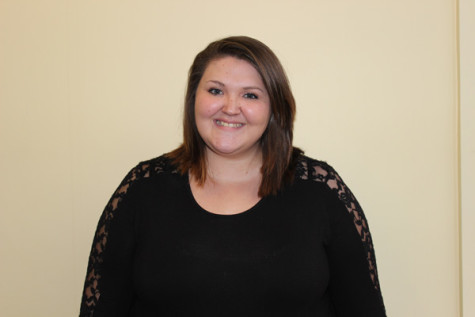 Brooke Boyer, Staff Writer

Graduated High School: 2012 Mechanicsburg Ar. Sr. high (Mechanicsburg, Pa.)
Year and anticipated graduation date: Senior, Spring 2016
Major/Minor:...