Commuters get appreciation on their day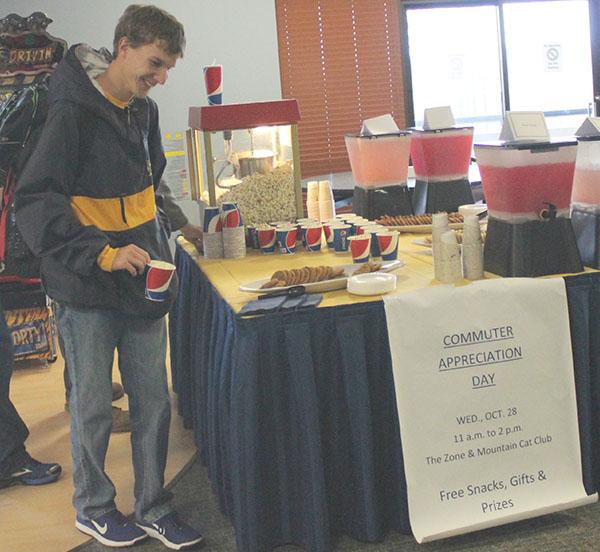 A third Pitt-Johnstown Commuter Appreciation Day with popcorn, punch and prizes was held last Wednesday — Mountain Cat Club and the Zone arcade inside the Student Union.
Commuter students who attended the day, which lasted three hours, were entertained at the Zone arcade and with bingo in the Mountain Cat.
RealWorld Action Program Coordinator Jeanne Susko said that one goal of the day was to change the perception that commuters are not valued on campus.
"Commuters are a huge part of the campus," Susko said.
"Showing them appreciation once a term is a way for (the university) to thank them for trusting the school and coming here for their education."
Susko said some commuter studernts don't realize what campus services are available to them.
"We try to encourage them to come to the Student Union (and other buildings) to take advantage of the resources they have while attending this university," she said.
Prizes were donated by university organizations such as the Student Life office, campus police and Sodexo.
Since its reincarnation three years ago, university Student Life staff members have organized the event, but, this year the Commuter Club members co-hosted the event.
The club provides commuter students with an opportunity to be socially connected to campuswide activities and to address needs of commuter students, according to club president, junior Rachel Harrington.
Harrington said it can be tough for club members to assemble due to conflicting schedules.
"Commuters are a difficult population to bring together; a lot of students go to class and then go straight home (due to other responsibilities like having a job)," Harrington said.
"The club struggles sometimes because not everyone knows about it, and it is hard to get the word out (to commuters)."
Harrington said 119 students showed interest in being a part of the club earlier in the semester at the activities fair, but current active membership is around 25-30 students.
Junior commuter and Stoystown resident Stephen Triol said that events like Commuter Appreciation Day makes him start to get the feeling that commuters are being properly acknowledged by university officials.
"It's really nice that the school recognizes commuters as a population," he said. "It is like a good treat also because it happens at a great time."
Triol said that more can still be done for commuters.
"Pitt-Johnstown is a commuter-friendly school and I think that helps them get students to come here," he said.
"If they did more for that portion of students (like giving students 24-hour access to a learning building and more convenient parking for commuters), I think that would help them."