Popcorn punctuates research discussion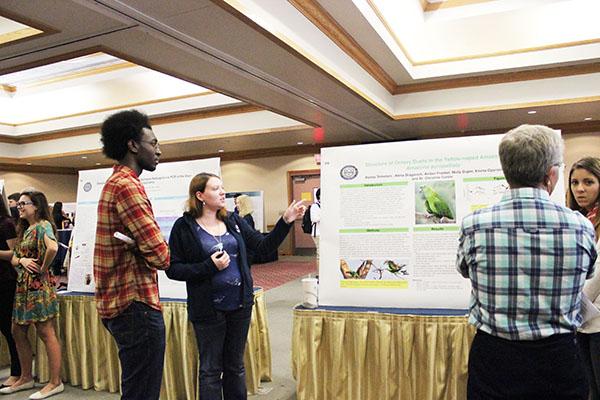 The smell of popcorn lingered as the Fall into Research: An Evening of Scholarship Oct. 7 pulled hundreds of students into the doors of the Cambria Room.
The room was filled with students milling among the 35 boards of research done by Pitt-Johnstown students and faculty.
Students and faculty who had conducted this research were busy all summer and even through to the week previous to the event.
Pitt-Johnstown senior Ashley Eppley said she had been approached by James Alexander, her summer mentor, to conduct research and has been working hard on free speech in the 1920s.
"I have been working on this all summer and until last week," she said.
Eppley is a history major and chose to research how free speech changed throughout the 1920s.
Another senior, history major Rebecca Justinus, also was approached by Alexander to conduct summer research.
She conducted research on Mary Ware Dennet's birth control pamphlet and how it was distributed through the mail and the postmaster.
At least one faculty member traveled overseas to conduct her research.
Tuangtip Klinbubpa-Neff traveled to Japan and Thailand over the summer to research books that she plans to use in upcoming classes.
"I visited the sites that were in the books I plan on having my students read for the classes I am teaching," she said.
Klinbubpa-Neff is anticipating her upcoming study abroad trip to Thailand this summer, and, through research she conducted, she feels that she is prepared to take students to see many interesting sites.
When Klinbubpa-Neff was in Japan, she saw and experienced a traditional Tea Ceremony, which coincides with a novel that her Narrative Literature class reads.
"I want to show students the oral and written traditions of these sites in the books and give them life," Klinbubpa-Neff said.
When Klinbubpa-Neff goes to Thailand for the Study Abroad program, she says she intends to show her students traditional food, the ceremonies and, most importantly, the community in which they are to reside.
International student Grace Lim said she hasn't seen anything like this and that it was different.
Although Lim was there gaining extra credit, she said she would like to see more events such as these.
She enjoyed the popcorn and refreshments provided.
"I was surprised to see so many people here. It's interesting to see new things and different types of research students did over the summer," Lim said.