Over 80k raised during a walk for cancer awareness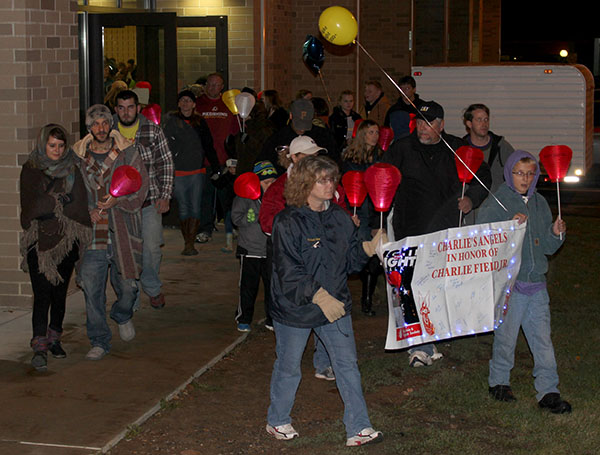 The annual Light the Night Walk held on Pitt-Johnstown's campus raised about $84,000 for the Leukemia and Lymphoma society, according to the Campaign Coordinator.
There were approximately 800 registered walkers.
The Charlie's Angel's Team fundraised $8,275 for the event almost achieving their goal of $8,500, according to the Light the Night walk website.
The event has had 16 walks, each year growing and raising hundreds of thousands of dollars for the families and victims of Leukemia and Lymphoma in the area according to the Campaign Coordinator.
The walk started at the Wellness Center parking lot and continued up Highfield Avenue, turned into the parking lot near Blackington Hall, head down towards the Nursing Building to the Student Union and ending at the Wellness Center.
Pre-Walk festivities were held in the Wellness Center, there was pizza, live music and a bouncy castle.
Campaign Coordinator Angelina Shilcosky is a blood cancer survivor.
"Unfortunately I think we have become bigger because we have more people in the area being diagnosed with blood cancers," she said.
Shilcosky said we come together to find a cure to end cancer and advertise with Johnstown Magazine and WJAC but also have a popular Facebook page and word of mouth from families and friends of patients/survivors.
According to Shilcosky the walked was started from a now retired employee of Pitt-Johnstown had a spouse diagnosed with a blood cancer and passed away and that was how the walk began.
"I think the campus is a perfect backdrop for a wonderful night, supporting a wonderful cause," she said.
Patient Hero Speaker Shawn Crum said that Shilcosky asked him to speak at the ceremony and that his family had put a team together to raise money and support the cause.
Crum is a seven year cancer survivor.
Some Pitt-Johnstown students volunteered through their student organizations to help out with the event.
Pitt-Johnstown student Doyle Yernaux volunteered through the history honor society, Phi Alpha Theta, to help at the event by handing out lanterns.
"I heard about it from student organizations and it's my first time volunteering," he said.
First time student volunteer Jordan Noble has heard about the event for a couple of years, she said as she was handing out the event itinerary.
Noble walked with Shaun Ocipia's team, a Living/Learning Center Resident Assistant.
Pitt-Johnstown student Erin Suppes also walked in a group of about 16 people, which consisted with Resident Directors, Resident Assistants and residents.
Suppes found out about the event through housing and advertisements around campus.
"I really enjoyed the walk, it was a beautiful night watching so many people come together for such an amazing cause," she said.
Suppes said it was inspiriting to participate in an event where people selflessly donate their time, energy and money to provide hope, comfort, support and love for those who fought, are fighting, or have lost their lives to the disease.
"As a team we were able to come together to raise over $500," Suppes said.
The donations from the walk is to provide financial assistance to patients and survivors in the western Pa. and West Virginia chapter, spanning over those 7 counties.