As roommates leave, so does furniture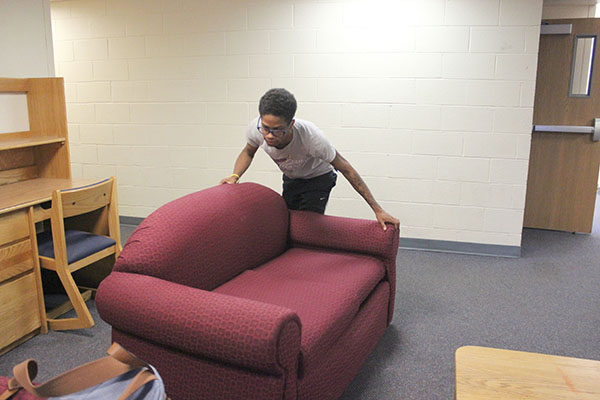 Chinese student Zhang Yuhao said he had some inconvenience moving to a dorm room because the email housing officials had sent him had showed the wrong room number.
He was assigned a room designed for students who are disabled and who need special medical assistance.
The housing office staff encountered some tough situations this year due to the large number of students, about 1,645 chose to live on campus this year said the Housing Executive Director Mark Daugherty.
Daugherty said he has 30 rooms that are tripled—three students in a room designed for two—something that has not happened for nine years at Pitt-Johnstown.
Daugherty said nearly every student who did not select a room through an online room- selection process in April was assigned to a triple room.
However, situations became even more complicated since some students indicated that they were not going to live on campus, so housing staff needed to remove furniture, including the dresser, desk and bed, intended for a third person.
The furniture removal-process is to continue until this week, due to the number of rooms that need to be un-tripled.
According to Daugherty, the housing staff need to submit work tickets similar to requests' students make to the physical plant office, and, in some cases they communicate directly with maintenance and custodial workers.
The reason Housing staff are removing furniture is because they believe the extra furniture will be an inconvenience in most situations.
However, they allow students to keep the furniture if they request to.
The extra furniture being removed is to be stored in designated storage areas.
Occasionally, Housing staff will pull it from storage to address any emergency needs.