New Humanities leader is from West Point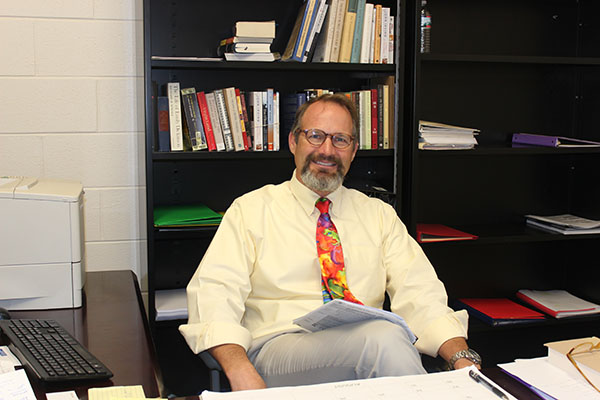 With the retirement of former Pitt-Johnstown Humanities Division Chair Patty Derrick, Michael Stoneham has been hired to take her place.
Prior to this position, Stoneham said he was Deputy Chair of English and Philosophy at West Point.
While teaching at West Point, Stoneham said he was still in the Army, a position he maintained for 30 years, 20 spent as a member of the Green Berets.
During this time, Stoneham said he lived in various parts of the world, experiencing combat a few times, and taught at the National Military Academy of Afghanistan.
"Eventually, I knew it was time to retire from the Army, so I looked for a job in a rural school setting where I could make a difference," Stoneham said.
He said this was due to his love of teaching and academic leadership.
Stoneham said that, while the job was difficult at first, he now has everything in order.
"Of course, the start of a new semester can always be maddening, especially with having to move and get settled," Stoneham said.
Stoneham said that his reception at Pitt-Johnstown was quite welcoming, however, and that, along with help from department coordinators, helped him get things in order.
Stoneham said he would like to present Humanities disciplines to students in a different light.
"Intelligent young men and women have many interests," Stoneham said.
As such, Stoneham said he would like to expand the minors program, and help students understand the real value and humanness of these disciplines so that they can explore their possibilities.
"Personally, I have hundreds of interests of my own beyond teaching and writing," Stoneham said.
In addition to being the Humanities Division chair, Stoneham also teaches a Composition 2 class and a Literature and the Environment class.
Colin Harrison, a Pitt-Johnstown student enrolled in the Literature and the Environment class, said he likes the class.
Harrison also said that he was not concerned that it was being taught by a teacher unfamiliar to him.
Another Pitt-Johnstown student enrolled in the course, Taj Green, said he also enjoyed the class, and the way it is taught.
"The class is definitely different. He uses some unique teaching methods," Green said, in reference to a walk through the woods Stoneham had the class take.
Green said Stoneham had the class do this so they could gain a greater understanding of the story they were reading and what the author had in mind while writing it.
Both Harrison and Green said that, if given the option, they would take a class with Stoneham again.