Customers drawn to fresh choices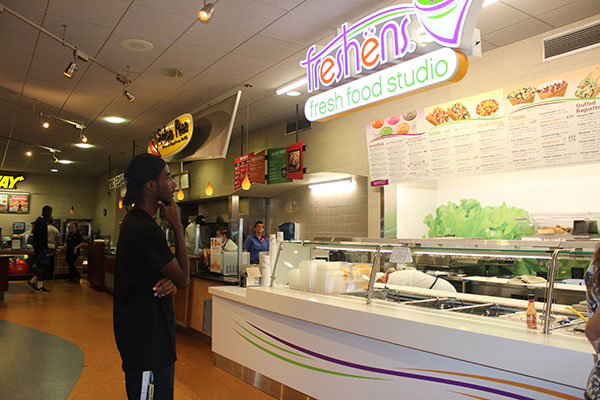 Sodexo employee Darwen Kull said that she has seen great success as Freshens. She said she has seen that on many days the line for Freshens is nearly out the door.
Kull said that students were looking for something different in The Tuck Shop and this new option seems to be popular.
Custom rice bowls and fancy crepes are drawing customers to a new Tuck Shop option, Freshens.
Kevin Dicey, general Manager of Sodexo, said the company had collaborated with the Student Government's Food Committee to update Pizza Hut with Freshens.
Dicey said the decision was based on what the students want, and they wanted a healthier option with more choices for those who choose to buy food at The Tuck.
He said the company has a large pool of vendors they could have chosen but Freshens was the best option for what the students were seeking.
The Freshens menu consists of a large smoothie menu, macaroni bowls and custom rice bowls.
Some other popular options are stuffed baguettes and salads.   
At least one potential customer however, said that he and others would miss Pizza Hut.
"Most of my staff misses having Pizza Hut because of their grab and go options," said Rob Eckenrod, Director of User Services.
Freshens is open from 10:30 a.m. until 10 p.m. The reason for the early closing time in comparison with the rest of the options in The Tuck Shop is caused by of the long process of cleaning up, according to Kull.
Senior Nicole Gross said she has not yet been to Freshens, but she has heard that the smoothies, salads and macaroni bowls are good.
"I also heard that the Salsa Rico bowls are better than Freshens' bowls. You seem to get more food at Salsa Rico," Gross said.