Many gather in arcade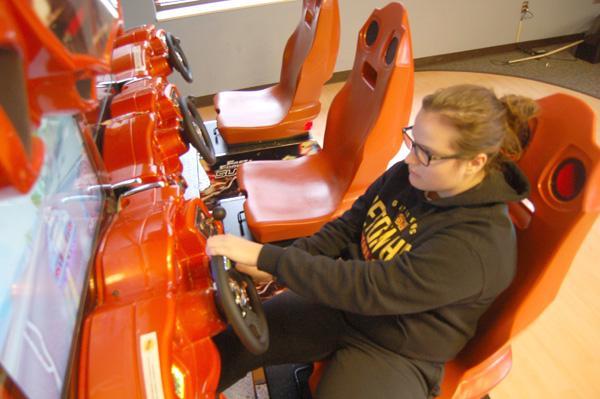 Pitt-Johnstown sophomore Jeffrey Horner spends at least five minutes each day in the campus arcade, The Zone.
"I mostly hang out with my friends and play Magic: The Gathering," said Horner.
Magic: The Gathering is a trading card game that is similar to the popular fantasy role-playing game Dungeons and Dragons.
Along with Horner, senior Aaron Keilman said he spends a lot of time playing not only Magic: The Gathering, but also, playing The Zone's arcade games.
"My favorite one is the racing game. I hold most of the records on the tracks; about 17 out of 22 of them are mine," said Keilman.
There are six Fast and Furious: Super Cars machines with unlimited free play. Located next to those are two pinball machines. One is Star Trek: The Next Generation while the other is Iron Man-themed.
"I wish when the pinball machines break, that they'd fix them correctly. A lot of the games in here (The Zone), have problems or are only fixed temporarily," said Keilman.
Out of the two guitars connected to Guitar Hero, only the left guitar is functional. Keilman said the other guitar has been broken since the fall semester. He also said he and his friends have put in requests to get the guitars fixed, but haven't seen any progress yet.
"I don't care if we get any new games, I just want them to fix the stuff we have."
Along the walls, next to each machine or table, there are phone numbers posted that one can text to report a problem with any equipment in The Zone.
There are two pool tables, an air hockey table and a ping pong table. Also, there is a dart board, a foosball table and another arcade game, Big Buck Safari.
Freshman Megan Kostan said she just discovered the benefits of The Zone.
Being that Kostan is a commuter, she is on campus for just hours at a time. She said, she likes to visit The Zone.
"I just started going to the game room to unwind and relax. It's nice to go in after a week of exams and just have some fun," said Kostan.
"My favorite games are definitely the pinball machines."
Sophomores Lis Quartey and Amtu Ogun both said they enjoy playing ping pong to pass time.
Ogun said he visits The Zone often to have fun and to enjoy friendly competition against Quartey.