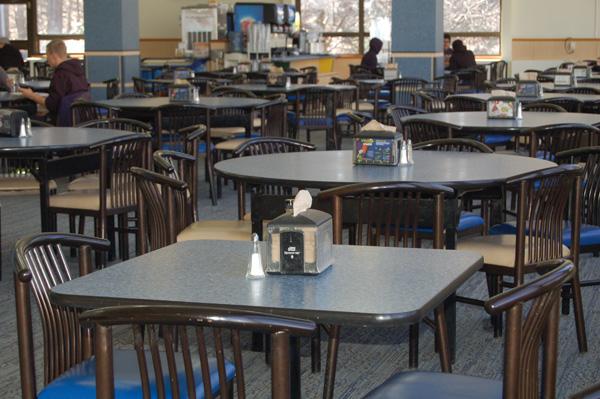 Entering the Student Union dining hall after 8 p.m. often reveals a desolate scene.
This is despite an email to all students late last semester informing them that the Student Union dining hall would be available as a study area for students between the end of dinner and beginning of breakfast during finals week.
The email also noted that, beginning this semester, this change would be permanent, allowing students access to the dining hall between 8 p.m. and 7:15 a.m. Sundays through Thursdays.
According to the email, this opportunity was made available due to a request from the Student Government Association's Food Committee.
Pitt-Johnstown maintenance worker Glen Barefoot said he was surprised more students do not take advantage of the opportunity.
Barefoot said he generally works from 9 p.m. to 4 a.m. cleaning in and around the dining hall, and that he sees few students throughout the night.
"Sometimes, there will be a small group or two that come in, but the most I've ever seen here at once was about 10 people," Barefoot said.
Barefoot also said that, occasionally, a few students enter alone to study.
Pitt-Johnstown student Carl Bush is one of those few.
"I usually come here a few times a week to study, just because there aren't many distractions," Bush said.
This is a habit Bush said he has been maintaining since the first week the dining hall became available as a study space.
Bush said he has only ever seen about six or seven students in the dining hall at once during this time, usually in small groups with the occasional lone student such as himself.
However, Bush said he usually went at 10 p.m. and left by midnight, and did not know whether more students showed up after he left.
"Most people are probably asleep at this time, or at least aren't thinking of studying," Bush said.