Students perform in long production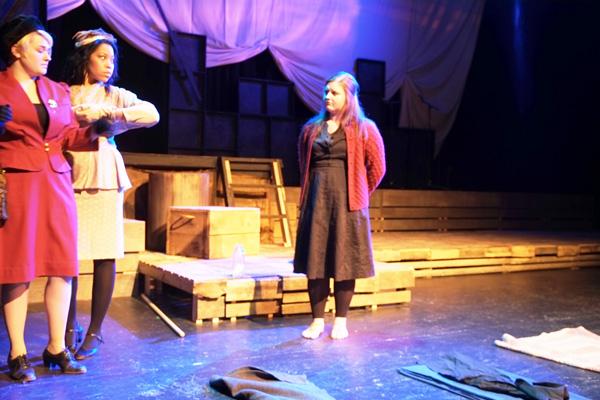 Bertolt Brecht's 'The Caucasian Chalk Circle' was put on stage by Pitt-Johnstown students last Wednesday through Saturday at 7:30 p.m. and Sunday at 2 p.m at the Pasquerilla Performing Arts Center.
Senior Ty Quillon said $5 is not a bad student ticket price since it cost $20 when he was a freshman.
The play is not cheap though, as it has a big cast, is two-and-a-half-hours long, and, most importantly, has a hardcore theme.
The play's protagonist, Grusha, takes in an abandoned baby. According to Grusha's actress, Carley Kelly, she goes into an epic journey that depicts how she grows to love the child that isn't hers.
"It's almost parallel to the King Solomon (story) in the Bible, (in which he proposes) to cut the child in half," said Kelly.
She also described it as a play within a play.
A theater review was published in the New York Times titled "'The Caucasian Chalk Circle,' at Classic Stage Company."
"Terrible is the temptation to do good," the review said of the play.
The play's director, Kate Castner, who is also an adjunct theater professor, wrote on Facebook that the play has offered her a great perspective on life, how to live, and how to value what is truly important.
Castner also wrote that the play's original music is by Matt Miller.
Kelly said the music is meant to show emotions by singing the characters' inner voices.
"I would say it's not exactly a musical, but the way they're interconnected with the play sort of gives that feel," said Kelly.
Kelly said she sings seven songs and that it is her first time playing a leading role. Quillon said he sings 24 songs, as he has one of only three singing parts.
He said it was intimidating at first to sing so many songs in a play, even though he grew up singing.  He said the four-hour-everyday practices had been helpful in conquering his fear.
The play's length is notable, as it took three hours on Wednesday's premiere.
According to the New York Times review, the play can wear an audience member down with its sometimes-laborious storytelling and narration.
Kelly said she realizes the risk the crew takes by performing a long play.
She said she hopes the intermission can give the audience a break, and that they can keep the audience engaged without noticing the passing time.
According to Pitt-Johnstown's website, a dinner was to be hosted by the Pitt-Johnstown Alumni Association before the show Saturday.
Both alumni members and non-members could choose to buy a ticket to the dinner or a compound ticket to both the dinner and the show.
The dinner prices were $20 for members and $25 for non-members. One pays $5 more to see the show. A post-play discussion with students was to be held afterwards.
Quillon said this play has about 25 to 28 actors and actresses and it is the biggest cast in Pitt-Johnstown's theater history.
"A lot of us (actors and actresses) are not theater majors," he said.
Kelly said it is a senior-heavy show since all seniors in this play have been in the same theater club called Pitt-Johnstown Players since their freshman year.