High book costs encourage thriftiness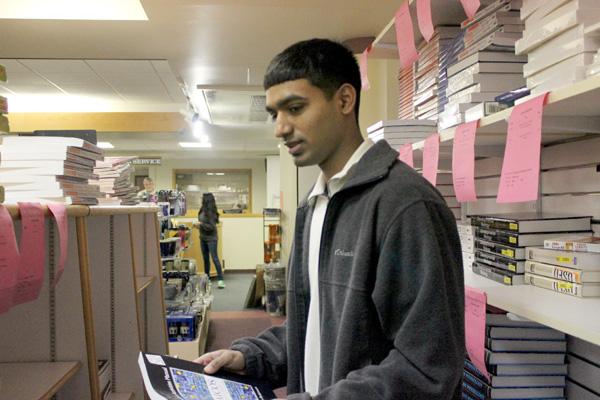 According to the National Association of College Stores, the average college student spends about $655 per year on textbooks.
The College Board estimates an annual cost of $1,168. With costs like that, for many students it is essential that students get the best possible deal on their textbooks. 
Pitt-Johnstown students have several options when it comes to buying textbooks: the student bookstore, other colleges or universities, or Internet sources such as Skyo and Amazon.
An "Essentials of Sociology" textbook costs $173.80 to buy new at Pitt-Johnstown.  On Amazon, the same textbook costs $32.45 new and $8.00 used. Skyo.com has the book available for $18.48 used.
At the Indiana University of Pennsylvania Co-op store, the book can be purchased for $145.00 new and $20.00 used.
Renting textbooks is another option. Renting the sociology book at the Pitt-Johnstown bookstore, or elsewhere online can save students money initially, but the book cannot be resold if it was rented.
Pitt-Johnstown hires an outside textbook company, headquartered in Columbia, Mo., to buy back textbooks. It is called MBS textbook exchange. It is a wholesale company that resells the books to college bookstores.
Pitt-Johnstown then buys the books from the textbook exchange and then sells them as used books.
This way, students can receive a higher payment for their textbooks, and the Pitt-Johnstown bookstore can fill their demand for used books.
The textbook exchange company is able to pay students a higher price for their used books because they distribute their textbooks to colleges all over the country.
When a student offers a textbook, company employees enter it into their database to determine the textbook's overall demand.
"The price of the book depends on what books are needed at the time you are selling the book back," said Linda Dunning, contract buyer for MBS textbook exchange.
The resale price is based on how many of that book they have in their warehouse, how many colleges have students who are looking to buy that book used, the condition of the book, and whether Pitt-Johnstown still uses that textbook.
The company pays the highest price for textbooks that Pitt-Johnstown students still buy.
"College bookstores are connected with our inventory, so we can track what books are needed," said Linda Dunning.
When textbooks are resold, they are sold (on average) at 75% of their original value.