Three paths shown for scholar studies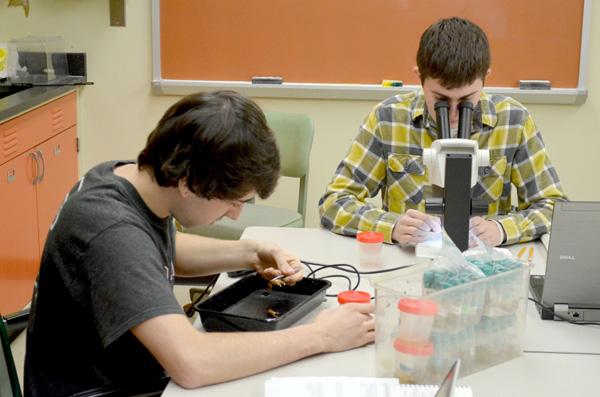 To become involved in undergraduate research, students can be contacted by a professor to join a project, or students can directly contact a professor or division leader about starting their own project.
A Pitt-Johnstown Symposium for the Promotion of Academic and Creative Enquiry and the Summer Program for Undergraduate Research Biodiversity promote such undergraduate research.
The symposium is held spring semester specifically for students to let Pitt-Johnstown community members learn about the ongoing research.
Karen Lee, Undergraduate Research Coordinator, works with Pitt-Johnstown administrators and other faculty members to help make the most out of the campus research programs.
Lee said another way for students to get involved in research is through a program run by the National Science Foundation called Research Experiences for Undergraduates.
The program is for students interested in doing research at bigger universities. Students could have more equipment available to them at a larger university compared to a smaller branch campus, due to resources and space.
One can find more information on research opportunities at www.nsf.gov.
Cody Smith, a Pitt-Johnstown senior, was involved with a program that lasted 10 weeks. He participated in research in summer 2013 at South Carolina University.
To participate, Smith had to apply and send in information to become accepted. There was a GPA requirement and a request for two recommendation letters.
"It was a great experience. You get to learn and use a bunch of equipment that isn't available here," said Smith.
Smith said he got involved with more research by just asking Lee about her current projects and he was then signed up on a team.
Not only is there research in the Natural Science Division, but students also can do research in all divisions.
Students have done research presentations such as Brennon Eutin's "Major Divisions in Europe Post WWII" and Alexandra Jones' "Victoria's Secret Advertisement Analysis." They showcased their work at the symposium last spring.
Benefits students can receive from research is not only the experience of learning how to conduct a proper experiment, but, students also can get research credits and students' names can potentially be put on different publications of the work.