Lucas lectures about brands' rhetoric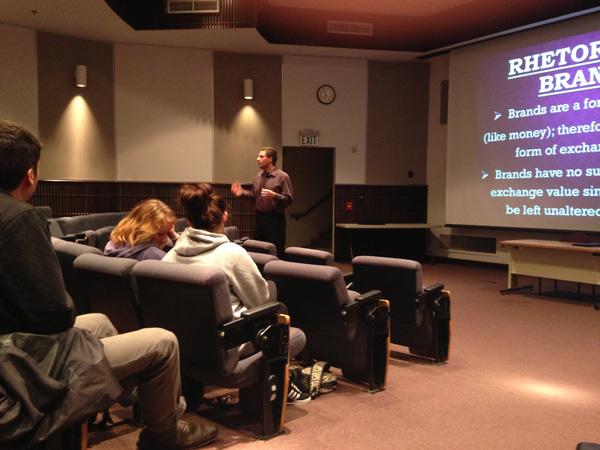 Communications professor Paul Lucas kicked off a Thursday presentation  by showing actor Terry Crews playing multiple drum sets by flexing his muscles.
The video was an Old Spice commercial Lucas showed to exemplify commercials' tendency toward flashiness and an unclear connections to the advertised product.
Lucas gave an open lecture titled the "Rhetoric of Brands," in which he explored Aristotle's theories on trade and expanded those theories to include brands.
Just under 40 people attended the Humanities Division's Colloquium series lecture.
Lucas explained Aristotle's idea that all objects but money have both a use value and an exchange value.
He then introduced the idea that brands are also a form of currency because they possess only exchange value and not use value. Brands are also like money, he said, in that consumers never have enough of it.
Lucas also brought ethics into the debate, explaining how a trade is ethical if both parties feel they got a good deal.
Lucas showed Old Spice, King's Hawaiian sweet rolls and Dirt Devil commercials. He also showed a Kentucky Fried Chicken commercial run during "The Walking Dead" to show how bad advertising can harm a brand's image.
After his lecture, Lucas answered questions for about half an hour.
Lucas said his research is to be published in the International Journal of Integrated Marketing Communications this fall.
Freshman Carrie Albright said she attended the lecture because her Public Speaking professor Chris Barkley offered extra credit for attending.
She said she is a business marketing major, but hasn't yet developed an interest for advertising.
Albright said she wanted to learn about the topic, but didn't know what to expect.
Senior Communications major Anisah Baylor said she went because Lucas told her about the lecture in class. She said she has always been interested in advertising.
"I thought it was great," she said about the lecture.
"I wish it could have been longer; more questions could have been generated."