Fall into Research showcases success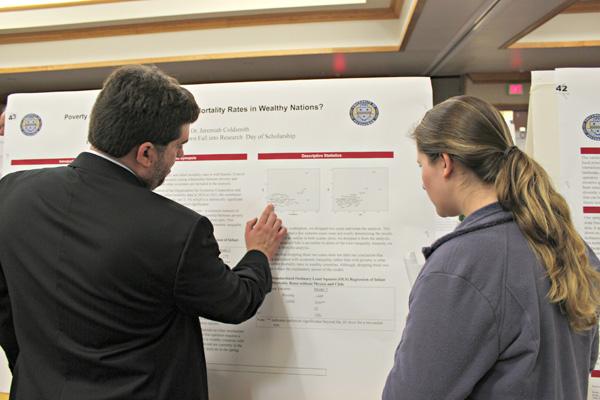 This past week, the second annual Fall into Research: A Day of Scholarship, was held by Pitt-Johnstown and Windber Research Institute officials to showcase summer research projects.
There were a total of 55 presentations displayed in the Cambria Room.
Studies were done in every one of Pitt-Johnstown's academic divisions.
Biology professor Karen Lee was in charge of planning the event, along with professor Lisa Bell-Loncella and professor Patty Wharton-Michael.
There are requirements or students to participate in the research projects.
"To participate in the event, any presenter had to send in a title, create a poster or other visual presentation, then send it to be printed and show up the participate," said Lee.
Sophomore Ryan Wilson, along with professor Rebecca Webb and student DeAnnah Dick, presented their summer research project, evaluation of biological diversity in waters on and around the Pitt-Johnstown campus over this past summer.
"I became involved in Fall into Research through the summer intership Biodiversity Summer Program for Undergraduate Research program," said Wilson.
Wilson and Dick's research project took place on the Johnstown campus. The students went to two streams and conducted a stream study, researching the diversity of chironomidae larvae.
"Like many of the research students from the Summer Program for Undergraduate Research program this summer, I continue to work on the project and hope that we can publish our findings when we complete our research," said Wilson.
The biodiversity summer internship program allows students and faculty members from all academic divisions of school, to do research in their own fields.
Only Pitt-Johnstown students were able to participate in the event.
"This was an event showcasing what is going on at Pitt-Johnstown" said Lee.
"The only outside participants were from Windber Research Institute. Some UPJ students presented the work they did in the summer at other institutions, but they are current UPJ students."
Students who are interested in either participating in or viewing a similar event can look out for the spring semester. "There is another symposium in the spring, Symposium for the Promotion of Academic and Creative Enquiry, which is a student symposium for UPJ students," stated Lee.