Younger students survive college life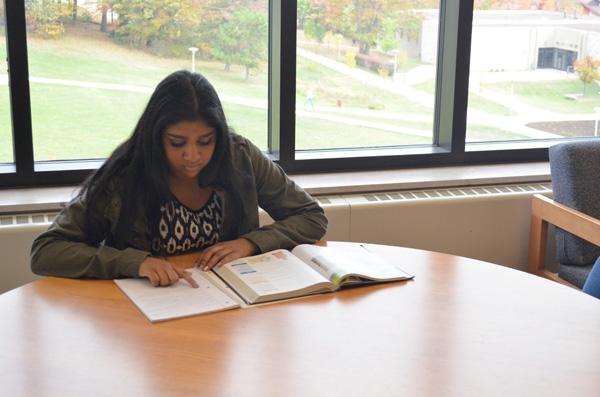 Pitt-Johnstown teachers have welcomed some students who are younger than usual into classrooms.
This program includes students both in high school, and those who may have been graduated early.
These students have a chance to jumpstart their college career.
Administrative Assistant of Academic Affairs Diana Walsh said Pitt-Johnstown welcomes students from surrounding high schools to take classes on campus.
"We have students from as far as Bedford work with their guidance counselors to come here and take classes in the afternoons," she said.
Younger students taking classes with college-aged students may find this transition difficult, but at least three said they  have made it work.
Sophomore Forrest Newman was a dual-enrollment student, gaining 6 college credits before his freshman year.  He said he did not struggle as much as he thought he would.
"I thought it would be difficult, but most of them assumed I was a fellow college student that already graduated high school."
There are also some students on campus who were graduated high school and enrolled in college earlier than usual.
Junior Divya Ramalingam started her freshman year at 16 years old.  Her previous private school allowed her to start at age 3.
Though she was much younger than most of her peers, she was able to transition well despite the age difference.
"I learned social skills at the same time as everyone else, just younger so it wasn't much different for me to enter college early too," she said.
International student Qianru Du also started college at age 16.  She skipped 2 grades in primary school and high school.
"The school work was really easy for me so it was not necessary to go to school for so many years. Secondly, my dream is to finish a law degree.  It will take me many years, so I think I should start early."
Though the transition of college class expectations is not so difficult for her, other aspects of campus life can be a challenge.
"To live alone and deal with things in daily life is difficult because I am under 18. For example, I cannot own my bank account because I am not an adult.
"I cannot even sign the agreement for myself in the emergency center of the hospital," she said.
Though many students may not realize some of their peers are underage, they are still a part of the student body.  These students often adjust to campus life, but not without some struggles.