Homecoming history reflected upon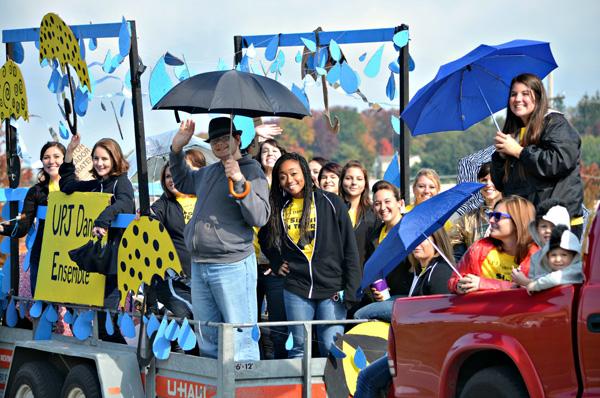 In 1927, Pitt-Johnstown professors taught the first semester of classes. For over 40 years, there was no homecoming celebrated. 
Finally, during the 1971 school year, the faculty and community members put on Pitt-Johnstown's first homecoming. The theme was "The Impossible Dream."
The homecoming festivities included a traditional parade with floats decorated by campus organization members and an assortment of high school bands.
The students  crowned their first homecoming queen, Donna Jean Wells.
In addition to the parade, a caged live panther was brought on campus while two Air Force pilots flew jets over the campus.
"There's a Place for us" was the 1972's homecoming theme. The theme was chosen to put an emphasis on the university's four-year degree programs.
A couple years later, the 1974 homecoming committee members added another fun event. Students were able to participate in a jelly-sandwich-eating contest.
The following year, a coed tug-of-war contest was held with homecoming queen Pam Hutzell watching over.
During the 1977 homecoming, students and faculty celebrated the 50th year of the Johnstown university.  Although they did not have good weather, students still showed up for many events.
Cindy Vautar was crowned queen in 1977.  "Everyone was just so excited. I was a commuter and it was such a bigger thrill being a part of it. I felt very honored.
"It was a big thing; even the Johnstown paper covered it. My picture was even on their paper."
"I think it brought everyone together to celebrate the school's name." Vautar said. Togetherness as a whole grew at the university following that year.
The 1979 "UPJ- Nature's Gateway" Homecoming was a great success. Students participated in a new event, a hamburger-eating contest.
John Kariss, a student attending UPJ at the time, unofficially broke the world record for most hamburgers eaten in one sitting. Kariss ate 14 hamburgers in only 28.05 minutes, .1 minute faster than the record setting time.
When the 10th annual homecoming came around, there were a total of 22 queen candidates.
In honor of all the progress the university faculty and students made over the past decade, the theme was "Memories from the Past – Dreams for the Future".
Students celebrated with a softball tournament, an organizational bazaar and jazz violinist Jean-Luc Ponty.
Ponty had performed on TV shows, including "The Tonight Show."
This year's "Super Heroes" homecoming festivities will begin Friday.
Many different events are scheduled, like  the groundbreaking of the John P. Murtha Center for Public Service, a freshmen convocation and a town hall meeting. There are also  soccer matches and a volleyball game set to be played, a fireworks display and an Alumni Tailgating Party.