Traditional Chinese festival observed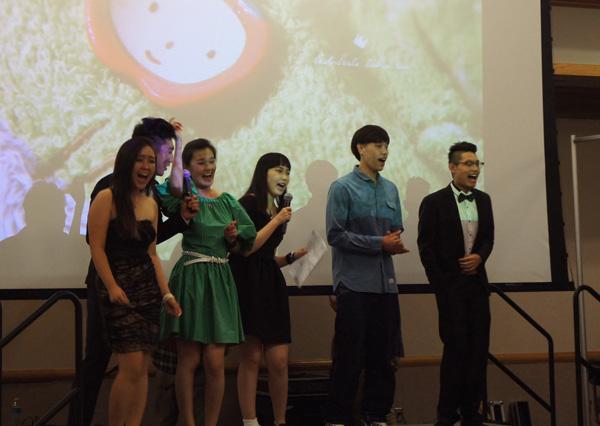 Friday night in the Cambria Room in the Student Union, Meng Xing, Chinese Student and Scholar's Association president, led association members to hold the Mid-Autumn Festival party.
A Korean-pop dance started the show with  four Chinese freshmen women, wearing  black dresses and 5-inch heels.
Among the women, Jan Qu Yifan ran back and forth between the stage and the backstage, and changed three times.
Not only was she in three group shows, she also played the erhu, the Chinese violin, as a solo artist.
The erhu performance was voted by many to be the favorite show of the night. Jan said she has been playing since she was 6.
Jan was not the only enthusiastic performer. Freshman Du Qianru  was host and sang with some other students in a group.
Vincent Lin Jun sang a Chinese folk song. He partnered with Jan for another song and for which they added a dance.
It was not an internal celebration for the Chinese students, however, many American and international students also attended.
"I counted one-by-one that there are 91 people here," said Academic Affairs Vice President Paul Newman.
Fliers were hung on campus to announce the celebration. Association members of the association also invited friends.
"Jan (Qu's nickname) invited me and my friends in sororities here, and I look forward having some mooncakes, which I had a few years ago. I love them," said Ashley Zastawniak.
Mooncakes are hand-sized round cakes with different flavored filling.
Meng said rehearsal and preparation of the party was a rush.
"It took us nine days to put this together," he said.
He said he was proud of what came out within such a short rehearsal time, especially considering that most members are new students.
"It jump starts the International Week (in November) at the university before Thanksgiving,"
"There will be more free food from local Chinese restaurants, such as Lychee and Szechuan, more varieties of shows and activities, and fancier decorations in that week," said Meng about International Week plans.
Newman said he has worked closely with Chinese students for five years, and he has extracurricular activities with them.
"One time in the first year of me working with them, I invited them to my house and we prepared a meal for four whole days and ended up serving over 500 dumplings," he said.
Regarding the Mid-Autumn Festival, he said it is the third year of the association holding a party.
"The first year we held a party within a small group of people. The second time it was canceled due to a fire," said Meng.
Freshman Savannah Sullivan said she and a friend were invited.
"I've never heard of the festival before," said Sullivan.
"I knew it's related to the time of the year when the moon is the fullest and brightest."