Dancers perform in large numbers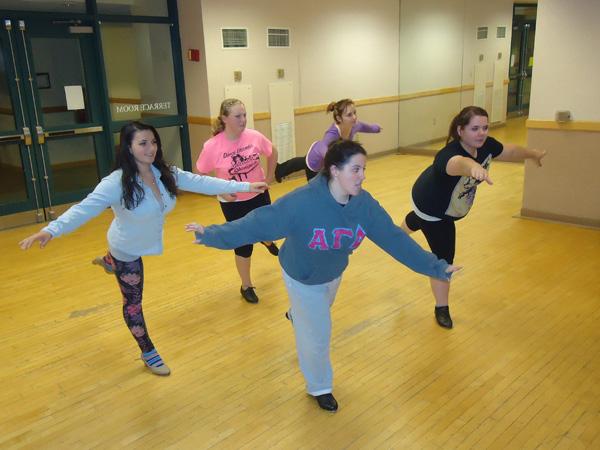 Not only is Pitt-Johnstown Dance Ensemble one of the largest campus organizations, but members said it is a way to meet more students and dance off stress.
UPJ junior and Dance Ensemble first-year president Cassie LaFramboise said, according to the organization's roster, there are 100 members this year.
LaFramboise said, although it has been an adjustment going from two-year ensemble member to president, she is glad she took the position.
"I've really stepped up my game with the organization," she said. "I'm in charge of such a large number of people."
LaFramboise said the responsibility can, at times, be stressful, but there are many benefits.
"It's an extremely rewarding experience," she said. "I really enjoy the relationships I have with other officers and members, and I'm learning a lot along the way."
The spring Dance Ensemble show does not take place until Jan. 31 and Feb. 1, but dancers began rehearsing shortly after the fall semester started, she said.
"Each dance is held for one hour every week," LaFramboise said.
She added that, depending on how many of the seven dances a member wants to participate in, every dancer is able to choose how big of a commitment they would like to make to the organization.
Hip-hop choreographer Lauren L'Herbier said being involved in Dance Ensemble became a great way to meet more people.
"I got to know so many people from being part of such a big organization," she said. "And dance, for me, is a stress-reliever from school-work."
L'Herbier said choreographing and performing the dance allows her to show off her creative side while enjoying what she loves to do.
"I like showing friends and family our originality," she said. "At the end, it is so worth it when you show everyone what you've been working so hard on."
Dance Ensemble treasurer Amanda Mudgett said the spring show costs roughly $3,000. Costs include things such as books, lighting and costumes.
She also said organization members try to donate money and help with fundraising events.
Mudgett said dancers participate and donate money to the Light the Night Walk, Operation Christmas Child and Mr. UPJ campus events held annually.
On top of their weekly practices, Mudgett said dance members raise most of their money through Marianna's Pizzas and Subs fundraisers.
"This year, we will be holding another fundraiser at Five Guys, and all of the proceeds will be going to the Wounded Warriors foundation," she said.
Mudgett said this is her fourth year as a UPJ Dance Ensemble member.
"The dancers put in a lot of hard work, along with the officers and choreographers," she said.
Choreographer Kaitlyn Torquato said the year has been running smoothly because of the equal effort the members put in.
"Our officers put hard work and time into the organization," she said.
Torquato said, although it is such a large group, the dancers manage to keep organized and focused.
"Dance Ensemble (members) work very well together," she said. "We are all involved in the organization for one reason: our love of dancing."