Students seek sights to see overseas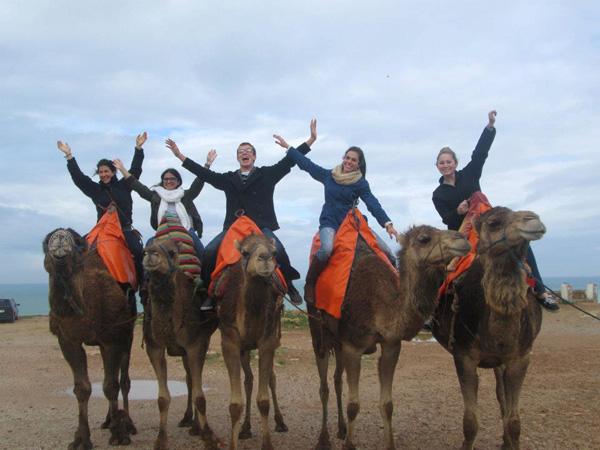 Studying abroad has given students opportunities to do something amazing; something they normally wouldn't do.
Students are eligible to study abroad after their freshmen year, if they are in good academic standing and in good judicial standing, according to Study Abroad adviser Judy Freedman. About 40-50 students each year study abroad, according to Freedman.
One of the most popular programs, Freedman says, is the Pitt in London program. There are two options for the Pitt in London program, one is a semester long, and the other is a six-week summer program.
One student who studied in London was senior Megan Verwelst.  She was able to study through the Vira I. Heinz Scholarship, which is awarded to three Pitt-Johnstown women each year.
Applications are to be accepted starting Nov. 1 for all eligible Pitt-Johnstown women, according to Freedman.
Verwelst said that she spent a lot of her free time traveling.
"I visited a lot of museums because almost all of the museums in London are free and very interesting. I traveled outside of London, also," she said.
"I took weekend trips to Stonehenge and Bath in England (and also went to), Paris, Edinburgh, Loch Ness and the Scottish Highlands."
She took two classes while abroad, Understanding Modern Britain and Writing the City, she said.
"I learned how to live in a different culture and how to be truly independent and reliant on myself," she said.
"The most important thing to me was learning that I actually could go off to a new country on my own and have such amazing adventures and learn so much.
"I realized how enormous and diverse the world truly is and now I can't wait to explore the rest of it."
Another student who traveled abroad to Seville, Spain was former Pitt-Johnstown student Kyle McClure.
McClure said that he spent most of his free time exploring Seville and surrounding areas.
"I was able to spend a lot of weekends traveling around Europe.  I went to London, Paris, Sicily, Morocco (North Africa), Portugal, and countless cities in Spain like Madrid, Barcelona, and some smaller ones like Granada and Cadiz," he said.
"At the University of Seville, I was part of a program that the university offers called 'Courses for Foreigners.'  They were courses designed for study-abroad students, and my classes consisted of all American students from different study-abroad programs and were taught in Spanish by native Spanish professors," he said.
McClure took five classes while Spain, including The Contemporary History of Spain, Cultural Anthropology of Andalusia (province) and Publicity and Propaganda.
He also took Flamenco as a cultural expression and The Contemporary Arab-Islam World.
He also said that there were classes available for students in English if needed, which are offered in most of the study-abroad programs, according to Freedman.
Junior Tessa Smith studied in Ecuador in June. Smith said that she spent a lot of her time writing and journaling, but, like McClure and Verwelst, she also went sightseeing and exploring.
"My group went on jungle excursions and visited tourist cities that housed volcanoes and waterfalls," she said. "I held a sloth, canoed to a town full of monkeys and parrots, hiked to waterfalls, zip-lined through mountains, slept overnight in the middle of the jungle, learned to salsa dance, and planted crops with natives."
Smith took two classes during her time in Ecuador: Ethnobotany and Native Medicine, and Literary Ethnobotany.
Smith said that she learned that it is vital to slow down, turn off your cell phone and open your eyes to the world around you.
Senior Alysse Gormley studied abroad in Galway, Ireland spring 2013.
"My free time consisted of walking into town and watching street performers, or going to the pubs, grabbing a pint of Guinness and listening to all the music around me," Gormley said.
"My weekends were spent traveling to various places around Europe like London, Northern Ireland, Scotland, Germany, Amsterdam, France, Spain, Morocco and everywhere around Ireland," she said.
She took psychology classes along with a few Irish Studies classes while in Galway, taking a total of five classes.
"I would not say I am a changed person, but I definitely learned new things about myself," she said. "Like how I can push myself beyond what I ever imagined."
"My biggest piece of advice is to travel and spend every cent you have on food, music, culture and, of course, beer."
McClure had one last piece of advice to college students.
"Go abroad, go abroad, go abroad," he said. " Most people told me that they wanted to travel, but they were going to wait until after graduation when they had a job and money. What an ambiguous statement.
"Who knows when you'll get a job after graduation, let alone one that pays enough to afford international travel. Go while you're in college. Go while financial aid will help pay your way.  Go before you're old and before staying in a $20 a night hostel is no longer acceptable."