Students like psychedelic dorm decor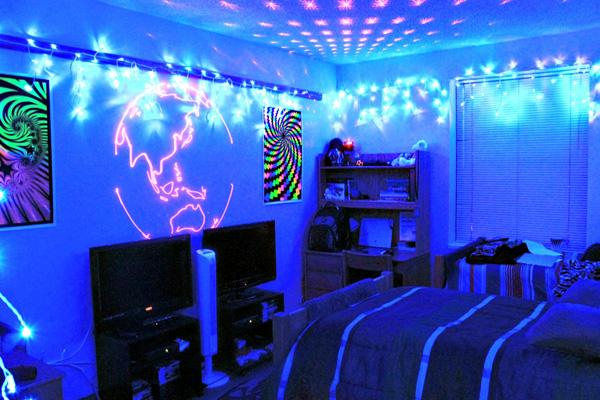 For many students, college is the first time they are living on their own and have the ability to make their living space unique. Some students have created a distinctive home for themselves.
Found in a room on the Living Learning Center's third floor are strands of blue, red and white lights, a black light and eight black light posters. Also, there are multiple projectors with 3-D laser and ocean images and two televisions, both connected to an Xbox 360.
All of this is in sophomore biology students' Cyris J. Popis and Gary Swope's dorm room.
They have been living together for two semesters and said they wanted to have an awesome room.
The idea started when Popis suggested they get icicle lights, and the two have been trying to outdo each other ever since.
The latest addition to their room is an ocean projector, suggested by Swope, which shines an ocean picture on the ceiling in their shower.
"I like to take a shower under the sea and would like to invest in some ocean sounds, too, but I hope I don't fall asleep in the shower," said Swope.
Decorations also shine out from under their beds and around their sink.
The posters include a zebra, a smoking caterpillar and psychedelic images.
"The LED lights are energy-efficient, might I add," said Popis.
Residents know Briar 1 lodge as the Thunder Dome. Sophomore civil-engineering major Carter Johnson explained that all of the guys living there added their own touches and wanted to name their place something that sounded cool.
"We are all good friends and everyone knew each other already, so it made sense to live together," Carter said.
Sophomore civil-engineering major Mark Szafranski said it has a homey feel. Decorations include a Pirates baseball flag, tie-dyed coffee table and Bob Marley poster.
Sophomore psychology major Angela Kimmel describes her LLC dorm room as having a weird vibe. Some of her decorations are Christmas lights, orchid plants and a golden monkey.
"I wanted the Christmas lights up all year because after Thanksgiving is just too late," Angela said.
She said she likes orchids and no one at her home would take care of them so she brought them to campus with her.
Kimmel said her friends referred to her orchid plants as the forest that needed to house something, so they bought her the golden monkey.