WUPJ-TV set to be plugged back in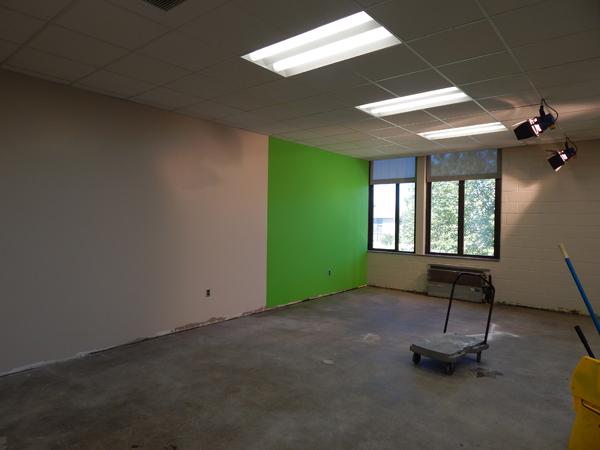 After an absence from campus last year, WUPJ-TV is making a comeback.
The former campus television station was inactive last year, with the student organization that runs it, lacking an adviser. The studio in the student union was being used for storage.
Humanities Division Chair Patty Derrick supported building and locating an up-to-date studio on Biddle's second floor.
"200 Biddle was already being renovated," Derrick said. The room is to be the new site of WUPJ-TV.
Half of the room is to be a studio with camera equipment, and the other half is to continue to serve as a distance-learning classroom.
Also, studio cameras can be used to tape student class presentations.
"We used to have a station that was functional," Derrick said. "It sort of disappeared, and we really wanted to revive it."
According to Derrick, the previous adviser of WUPJ-TV had multiple leaves that resulted in the studio going unused. With a new adviser in charge, the expectation is to uphold and expand the student organization.
Derrick said that, in the future, more courses are to be offered that involve new media in journalism, such as television and computer use. However, nothing is finalized.
"This is the very beginning," Derrick said.
Now to advise the operation of WUPJ-TV is Richard Bukoski, a full-time communications professor at Pennsylvania Highlands Community College, and a Pitt-Johnstown adjunct professor. He is commonly known by his radio name Rick Shepard.
Bukoski worked full time in broadcast for 30 years, 10 of those years being spent with WJAC-TV as an assistant producer and on-air talent.
The rest of his career has been spent in radio, working with Forever Broadcasting.
He was asked to advise WUPJ-TV because of his experience in the field.
"It is kind of unusual for them to ask an adjunct professor (to do the job), but I thought it would be good," Bukoski said.
He said he is excited to get the organization started, and that it will benefit him as well as the students. He said it will be good to utilize the studio equipment when teaching his students.
WUPJ-TV is to have its own channel on the campus cable system. And Bukoski hopes to have any show students can produce.
"I'd love to have students come to me and tell me what they want," he said.
Julie Ciccaglione, Bukoski's intern, said Bukoski is a TV guru, with 30 years of experience in the field. Ciccaglione is to work with Bukoski to get programming back up and running.
The studio is to include equipment such as overhead lighting, cameras and a green screen.
The TV station is to broadcast a variety of shows, such as a sports segment and a talk show. Ciccaglione said she wants to have her own cooking show.
"It will be whatever the students want to do," she said.
Although there is no set date for when everything will be up and running, a meeting is to be held at 5 p.m. Wednesday in Biddle Hall 251 for students interested in the organization.