Vinyl still available here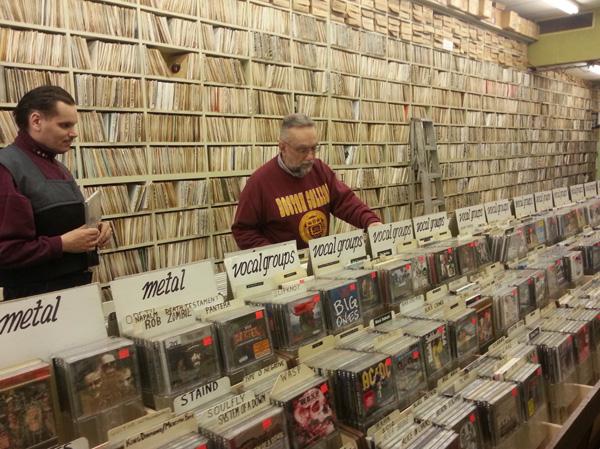 Vinyl enthusiasts can fulfill their musical passion by purchasing new and old records at one of the oldest—if not the oldest—record shops in America.
John George, proprietor of George's Song Shop along Market Street in downtown Johnstown, said he believes his 81-year-old shop is the oldest record store in America.
He said the discovery of his shop's historical significance came after reading a Billboard Magazine article that said National Record Mart was the oldest record chain in the country.
George said National Record Mart was established in 1939, and his curiosity was piqued because he knew his shop was established in 1932.
"For about 10 to 15 years, I researched and found that there were two stores older in Europe, but none older in the U.S.," George said, adding that the oldest is in Wales.
Though no consensus has been reached to verify this claim, many sources, including Country Living Magazine and a book titled Record Store Days, list George's as the oldest shop in America.
Whether his shop is the oldest or not, George's store seems to play a significant community role.
Disc jockey and patron Jack Bulisok said he has over 15,000 records, and he purchased the majority of them from George.
"If he doesn't have it, no one else does," he said.
Bulisok said he isn't the only one who appreciates the selection George offers and added that a number of celebrities have visited the shop.
"A lot of stars have stopped in over the years," Bulisok said. "Paul Newman was here and so was Joan Jett."
Similarly, patron Nick Milkovich said he visits the shop a few times a week and sees it as an important part of the community.
"I've been through this store about 1,000 times, but you can never absorb it all," Milkovich said. "They're always bringing new stuff in.
"This being the only record store in the area, it plays an important role in giving young people the opportunity to get into vinyl."
Milkovich said vinyl is his preferred way to listen to music.
"Sound quality wise, vinyl definitely has a warmer, deeper sound."
Vinyl dubbing is the only way to capture all natural curved sound waves, according to The Tribune-Democrat—digitized recordings lose sound because they become rigid and straight.
George said he has been dealing records since he inherited the business from his father at the age of 19.
"I grew up in this, and, when I took it over, I was only a teenager," he said. "It was '62 and records were a dying business."
George said he had his doubts about the business's success, but they were quickly dismissed.
"I didn't know if it would work out," he said, "but then the Beatles came around. It was the jolt in the arm that the record industry needed."
His business was a success, and he said his collection has grown on a large scale.
"We have over a million 45s," George said, adding that his shop holds five floors filled with records ranging in size.
"We have a few 78s—10 inch records. I don't sell too many, but, every once in a while, we'll have somebody come in and buy one."
George said he acquired his collection by trading with patrons and buying out stores and warehouses.