Faculty dress code preference differs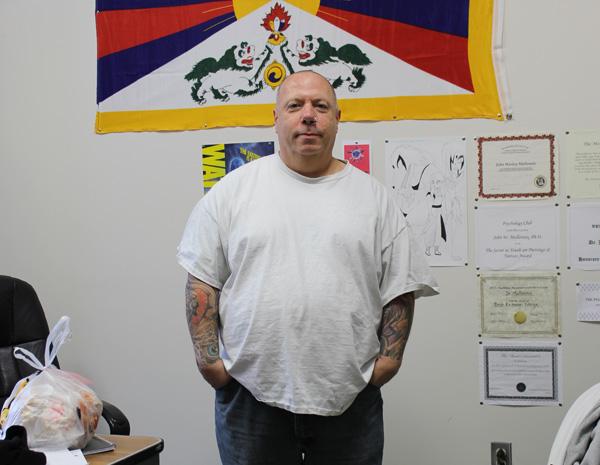 At Pitt-Johnstown, there is no formal dress code for professors or staff members, though most choose to wear business casual attire.
Housing and Residence Life Administrative Assistant Karen Barrick said that she prefers to dress in  business casual clothing because she is not a dressy person.
"I think it's important to have a more relaxed atmosphere for students. It makes us more approachable."
Barrick said if a formal dress code was implemented, she would follow the rules but would not be happy with it.
Student Life Assistant Director Shaun Hemphill said he also opts for business casual attire.
"I don't have a lot of suits yet, so I mix and match pieces. I just want to look presentable because it helps for students to take you more seriously."
Hemphill said that people should dress for confidence and that business casual attire can achieve that. He said he would be fine with formal dress code.
"I would be OK with a formal dress code, but it may not be beneficial to those who don't like dressing up or don't have dress-up apparel."
Psychology Professor John Mullennix said he prefers to wear casual street clothes to work.
"I choose to dress casually for comfort and feeling natural. I am a non-conformist and will not conform to any stereotype notions for dress for professors."
Mullennix said not having a formal dress code minimizes pretension and creates a closer space between students and professors.
He said throughout his 24 years of teaching and thousands of teaching evaluations, he has been criticized only once.
"I had one student, a business major, complain that my dress was unprofessional."
Paul Newman, who is a history professor and the Academic Affairs Vice President's assistant, said the manner and dress of both professors and staff is based on personal preference.
"Some administrators who have done my job in the past have worn suits, some sport coats and ties, some no coat but a tie, and some no tie. Two have been women, who have worn business dress attire. It's a real mix based on personal preference."
Newman said his  personal preference is to dress up.
"I tend to dress up because, as my wife says, I'm a clothes horse; not sure what that means, but I love to shop for and collect clothing, especially vintage stuff at Goodwill or secondhand boutiques."
Newman said he usually wears a suit once or twice a week.
"When I took this job in 2010, I had one suit. Now I have 15; 10 thrift store finds.
"I found a talented tailor. She does her magic, and they look like they were made for me. I look for suits from the early to mid '60s and early '80s by name designers. I'm a big an of Oscar de la Renta," he said.
Newman said people see him as dressy, but to him, it's casual. He said he opts for dress slacks, sport coats and button downs because they give him more fashion options than just a suit, adding that he likes to mix colors and texture.
Professors and staff said the way they dress for work helps to represent them as a person and can help to add a more personal connection to students.