Mystery structure's purpose unveiled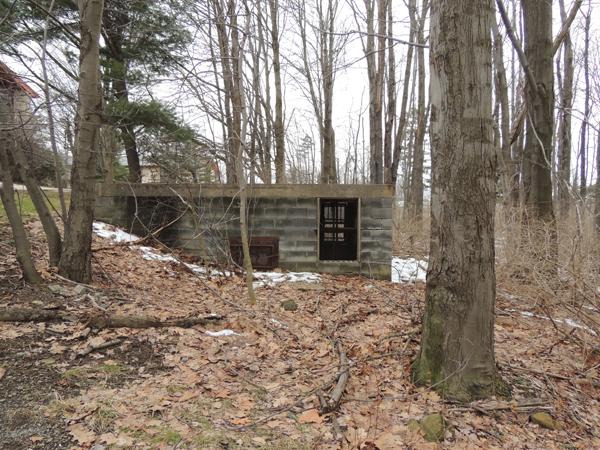 Almost every day, many Pitt-Johnstown students walk the path between the Krebs Hall faculty parking lot and the Pasquerilla Performing Arts Center.
On the edge of the tree line is situated an old cinder-block structure, with two window frames that are missing glass and a doorway about 5-feet high.
Even though the old structure serves no purpose now, it once housed animals, Energy and Earth Resources Adjunct Instructor Stephen Lindberg said.
The structure takes up only about 238 square-feet, and, at its highest point, is 6 feet tall.
Inside the structure is a mixture of dirt, garbage and bricks. There are two run-down enclosures made of two-by-fours and wire mesh. Two light fixtures also hang on the ceiling.
"(The structure) used to be a sort of power plant," said Lindberg, said. "When they upgraded the building, they kept it."
Lindberg said he has been teaching at Pitt-Johnstown for 15 years, and the structure has remained unchanged.
"After (the upgrades), there was an old biology professor who used to keep wild birds in it," said Lindberg, referring to the wire mesh enclosures that still remain.
This was former biology professor Neil Woffinden.
Birds of prey, such as hawks and owls were rehabilitated in the structure during the late '80s and early '90s, Woffinden said.
"I was working at the time with Dr. Dick," he said. "He was rehabilitating birds of prey he got from the State Game Commission. I would keep them until they were healthy enough to fly, and then release them.
"I was in a pinch. I had the birds, but no place to keep them, and that (structure) was there."
Woffinden said the birds were also used, in part, for student research. He said they would record the birds' body temperatures using radio transmitters that would go down the birds' throats, and take their temperature.
Other birds that Woffinden said he kept in the structure were ducks and game birds, such as grouse.
"I used to have some ducks that I got as ducklings, and raised them," Woffinden said.
"There was a professor that had Brittany spaniels. We raised the game birds, and put them out on campus, and had the dogs find them."
Woffinden said a better enclosure was built to house the birds behind the Engineering and Science Building in the early '90s, and the cinder-block structure hasn't been used since.
The Biology Department stopped housing live birds around 2002, according to Woffinden.
Pitt-Johnstown Campus Physical Plant Assistant Director Andrew Walbeck said the cinder-block structure was a cooling tower base structure.
Walbeck said the structure was part of an air-conditioning system and was the foundation for chiller tanks, which would cool air going into buildings such as Krebs Hall and Biddle Hall using cold water.
"It fed the core of the old campus," he said.
The structure was decommissioned by the university in 1971, according to Walbeck.
He said there are no plans to tear down the structure.