Students collaborate to build robots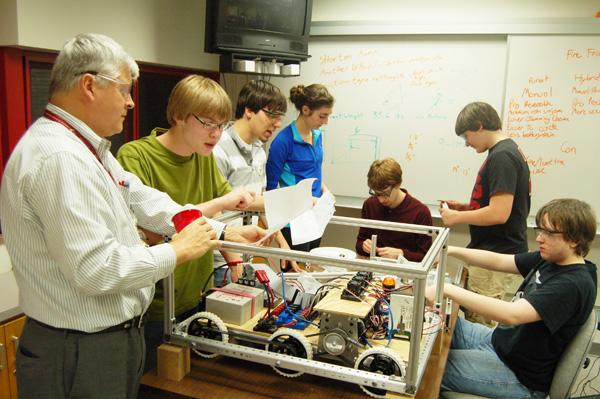 Most Westmont Hilltop High School classrooms are dark and empty during evening hours.
Classes have ended, and most students have left for the day, but one second floor room stays illuminated.
Nearly every afternoon, students converge to work on a robot with the help of UPJ professors and engineering technology students.
Westmont students are building the robot for a worldwide robotics competition for high school students.
The Westmont students are preparing for a  regional tournament to see whether their creation can advance to subsequent rounds.
Each year, a new game is chosen. This year, the game is ultimate ascent in which robots are used to fire small discs through rectangular-shaped goals, then climb a pyramid in the center of the playing field.
Westmont students have wanted to get involved in the competition since last year, when some went on a field trip to a robotics competition at Pitt-Oakland's Peterson Events Center, Westmont Hilltop High School Vice Principal Thomas Mitchell said.
UPJ mechanical engineering technology professor Brian Moyer went on the trip and said he saw one of his students there – senior mechanical engineering technology major Kevin Price.
"Price mentored his team from McKeesport Area High School and came over to us and talked to us about the competition," Moyer said.
A decision was made to start a Westmont  team.
Moyer, who lives in Westmont, asked some of his students, including Price, to volunteer as mentors because he thought a Westmont and UPJ pairing would be a win-win situation for students. Mitchell agreed.
"Students from UPJ have been invaluable. (Price) knows this stuff and he's here a lot," Mitchell said.
Senior mechanical and electrical engineering technology major Alex Reasinger said he heard of the competition previously and wanted to get involved when Moyer talked to him about it.
"(Reasinger) has a natural draw to the students. He's very committed," Mitchell said, adding that roughly 17 to 22 Westmont students regularly show up to work on the robot.
Reasinger and Moyer went Jan. 29 to Westmont to help with the project.
The six-wheeled robot requires some work to be completed, but it can be driven, although it veers slightly to the left.
Moyer and Reasinger discussed what the problem could be as they stood in front of gleaming white boards that displayed  team member names and detailed design plans.
"It might be a human error," Reasinger said.
Moyer thought it might be something else.
"It could be a joystick issue," Moyer said.
The two discussed what the problem could be as students assembled a metal frame, which, eventually, is to support the robot's firing mechanism.
The team is at crunch time. Price said they are slightly behind schedule, and Reasinger said that the team doesn't have time to waste.
"We can correct that when we have time," he said, adding that, if there isn't enough time, the driver will have to deal with the veering problem during the competition.
The permitted build period started Jan. 5, after the competition was officially revealed and startup kits were distributed to teams. Teams must stop building their robots Feb. 19.
Moyer said the team's time would be better spent by working on something else.
The students decided to work on an aiming system after Moyer and Reasinger worked on a design.
"Let's be aggressive and get this done in an hour," Moyer said.
The students, Moyer and Reasinger went to the school's workshop to build a motorized seesaw.
Westmont senior Dan Durham said he's enjoyed working in the shop because he's learned how to use a lot of tools.
"I've learned academic knowledge, hands-on knowledge and computer knowledge," Durham, a team co-captain said.
"It's been an excellent chance for me to get experience for my (engineering) career," he said.
The students entered the shop through a set of wooden doors, put on safety glasses and collected pieces of scrap wood to build their part.
"We're building a motorized seesaw," Reasinger said. "This will be able to tilt our firing mechanism up and down. It's like a tank."
Brian Wechtenheiser, a Concurrent Technologies Corp. employee and team mentor, said that the robot's foundation is mostly completed and that the students may be able to  add other things to it later.
Moyer said the motorized seesaw should allow the students to add a turret later, if time permits.
Students are to use a camera for manual aiming before shooting the discs, but Reasinger said the team might take a different route rather than using manual aiming.
"We might use software to automatically aim it," he said.
Before such additions can be made, the team needs more funding, according to Concurrent Technologies Corp. Scientist Doug Atterbury.
Atterbury said he is part of the Institute of Electrical and Electronics Engineers, and was asked to support area science, technology and mathematics programs.
"We've raised roughly $8,500 to get started, and we're shooting for $12,000," he said.
Atterbury said the goal is to promote math and science because they are great fields for students.
"I have three daughters, and science and math has put bread on the table at my house," he said.
Moyer said the students have a public relations team, and its members have been reaching out to businesses for money since the team started.
"There are a lot of students involved with this.
"A couple (students) do the PR and web design. Some work on (computer-aided drafting)," he said. "There are so many things these (students) do. It's impressive."
Moyer said for now they are keeping it simple.
"All of the other teams told us to focus on one thing. Some teams focus on defense, some focus on shooting discs, others focus on climbing, and some focus on picking up missed  (discs)  and shooting them back," he said. "(Westmont students) decided to focus on shooting discs."
Westmont Senior T.J. Rosage used an electric saw to cut pieces of wood, but Reasinger stopped him.
"Put your thumb above the board. The number one injury from saws like this is people losing their thumb," Reasinger said.
Rosage adjusted his grip on the board, pulled the saw downward and cut the piece.
"That will work," Moyer said.
Students finished cutting their pieces and decided to finish working for the day. They cleaned up, put their safety glasses away and shut the lights off before leaving the school around 8 p.m.