Radio waves break to Web streaming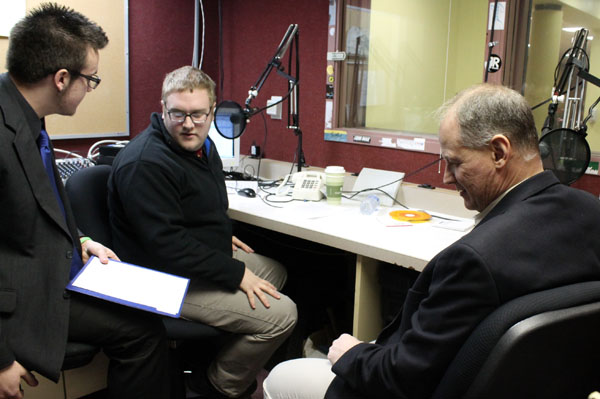 WUPJ Radio Club members have found an innovative way to make their broadcasts available.
The club used to broadcast from a radio antenna over a low-watt FM radio frequency, Club Adviser Kristen Majocha said.
"This was when people still had radios in their rooms," she said. "You could just turn on the radio and dial in."
However, several years ago, when the antenna was damaged, Majocha said club members and campus administrators were faced with a difficult decision.
They could pay for costly repairs to the antenna and continue to pay for Federal Communications Commission licensing, or they could find a new way to broadcast.
"They made the choice based on cultural changes and financial costs not to repair the antenna," Majocha said.
"That was a really significant change, but it's been a positive one."
Majocha said the decision was made to broadcast over an Internet-based, Web-streaming format, which would expand potential listenership.
"Now we can broadcast, and people can listen from any given place around the world," she said. "People can listen in the same way they digest other information.
"We've morphed with the trends based on the way people connect with their world."
Despite the change in delivery, Majocha said the club still operates under FCC regulations and follows community standards.
The group now broadcasts radio shows, nightly, Monday through Friday.
"Each show has its own following," Majocha said, adding that students are required to promote their own shows.
She said these shows feature contemporary music, old-timey radio shows and Christian rock, as well as other genres.
WUPJ commentator and Pitt-Johnstown senior Joel Black said his radio show, airing Wednesday nights, is a political-based show set up to discuss current issues in a creative way.
"It keeps everyone (politically) informed," he said. "It might not be everyone's cup of tea, but we try to do it in a light-hearted, joking way."
Black said he and his co-host provide liberal and conservative commentary on current issues and added that the show is to feature commentary from local politicians.
Former U.S. Rep. Mark Critz, D-Johnstown, was a guest during their first broadcast, Jan. 22, Black said, adding that more politicians are to make appearances this term.
In addition to these broadcasts, Majocha said Web-based broadcasting has also had an impact on sports coverage.
"Once we were able to Web stream, we worked with (Athletic Director) Pat Pecora, and he said we were the only Division II school in our conference who wasn't broadcasting games," she said.
Majocha said some Pitt-Johnstown home events— men's and women's basketball games and wrestling matches— are broadcast and explained that select baseball games will be broadcast this spring via Skype.
Next term, volleyball also is to be broadcast, she said.
Pecora said the broadcasts have been a welcome addition to the sports program.