Classroom pooch stimulates students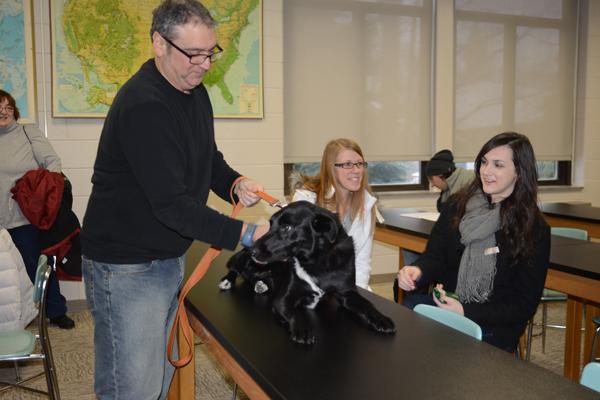 Pitt-Johnstown sociology professor Dan Santoro said he enjoys having Zombie, his Labrador and border collie mix, in the classroom with him.
Santoro said Zombie came from the Cambria County Humane Society and is around 27 months old.
"Students are away from home and might miss their dogs," Santoro said. "It brings that homey feeling to the classroom."
Santoro said he makes it clear to his students that if they have an allergy or dislike being around dogs, he'd be happy to put Zombie in his office during that particular class.
Although he mostly brings her in for visits, Santoro said he has been bringing her to Krebs more often this semester because workers are renovating his house.
"(Having Zombie there) changes the mood of the classroom and makes the atmosphere a little lighter," Santoro said.
Santoro said if Zombie ever gets too wound up during class, he will keep her on a leash until he is done teaching.
"Students love the dog being here," he said. "They'll ask why I didn't bring her in that day, or where she has been."
Senior Megan Eckenrode, a student in Santoro's Intro to Anthropology class, said she enjoys having Zombie around because she is a dog lover.
"Santoro is very respectful," she said. "Before bringing his dog in, he made sure the class had no problems with it and weren't allergic."
Santoro said other professors in the building, such as mathematics professor Boris Kushner, also enjoy having Zombie around.
"Zombie is a charming dog," Kushner said, "kind, forth coming, and a very smart creature."
Kushner said it makes his day when he meets with Santoro and Zombie in the Krebs building.
"It is said that a dog is usually similar to its master," he said, adding that Santoro is a kind and intelligent man. "I'm sure that the presence of his dog on campus is a pleasure for everybody."
Santoro compared having Zombie in the classroom to playing music for his students before class.
"It keeps students from getting bored and brings excitement to the room," he said. "Kids seem to pay attention a little better and it changes the energy in the room."
Santoro said he had a professor when he was in college who used to bring her dog to class as well.
"I was impressed by how homey it felt (when the dog was there)," he said. "It was a nice atmosphere."