Student seeks state pageant sash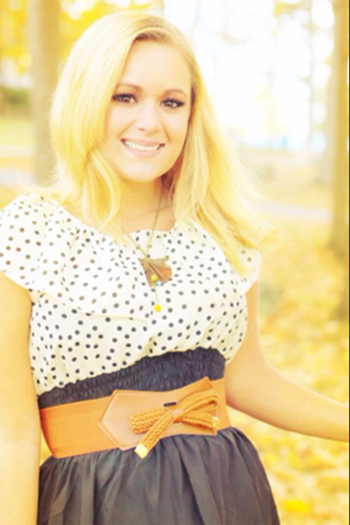 Pitt-Johnstown senior Gabrielle Atkins is to be competing for the Miss Pennsylvania USA title the weekend of Nov. 30 – Dec. 2 at the Hyatt Regency Pittsburgh International Airport.
Gabrielle, better known on campus as Abby, is the North Lodges Resident Director. Atkins has received 14 academic honors and awards including an AAA Merit Award and the Scholastic Achievement Award for Natural Science.
Atkins said she has a passion for painting, playing the piano and martial arts.
Atkins also has dedicated her free time to community service, including volunteering at Reading (Berks County) Hospital, Hopewell Mennonite Holiday Soup Kitchens and Glad Tidings Assembly of God Vacation Bible School.
Although Atkins keeps her life active, modeling has never been one of her pursuits. Instead, model scouts expressed interest.
"I did some modeling when I was little," said Atkins. "Scouts would ask me to model for them, but it wasn't my scene."
Atkins said she did not go looking for the Pennsylvania Pageant, but instead pageant organizers found her.
Pageant Coordinator Jennifer Vinsick said that Atkins was qualified for the competition.
"We interview every girl to make sure they have goals," said Vinsick. "We want a girl who wants to make a difference. It's not all about looks."
Atkins said she almost chose not to compete until her mother encouraged her to get on stage and share a personal story.
"I have burn scars on my (left) arm from an accident when I was little. I want to be able to get on stage and be okay with it. It's actually really scary," said Atkins.
This past summer, while working as a waitress at a Friendly's Restaurant, she met a young boy with fresh, similar burn scars.
Noticing Atkin's scar, the boy's mother asked Atkins for her story and addressed the worries that her son would be ridiculed when he returned to school.
Atkins stayed with the mother and son for two hours, answering all questions they had about her experience. She said both mother and son felt relieved after hearing her story.
"No amount of achievement or involvement can ever replace this day," said Atkins.
The difference Atkins made in the boy's life motivated her to share her story and goals, she said.
Pitt-Johnstown senior Nick Dobransky has helped Atkins prepare for the pageant.
Dobransky, a communications major, said he was able to help Atkins properly lay out her autobiography and taught her stage presence.
"I was an intern as Disney Prince this past spring," said Dobransky, "so I showed Abby different ways to present herself on stage; how to walk and talk."
Dobransky and Atkins also found ways to collect money with the help of junior Tim Smith.
"We got about 14 businesses to sponsor," said Dobransky.
Sponsors include Sheetz, C. Law Photography from Murrysville, Cucina Bistro and Catering from Reading, and UPJ organizations.
Atkins also raised money for her pageant by collecting donations on campus. Sponsors raised about $700.
Smith said he is confident Atkins will become Miss Pennsylvania USA.
"I definitely think it's going to be competitive, but I really believe she's going to win," said Smith. "She deserves it more than anyone."
Dobransky showed similar faith in Atkins.
"I think she's going to be fantastic," he said. "Even if she doesn't get the title, I know she's going to go far."
If Atkins receives the Miss Pennsylvania USA title, she will then compete for Miss USA, then Miss Universe.
"I'm not concerned with winning," said Atkins. "It is going to be an experience."