Lighting up gets holiday spirits high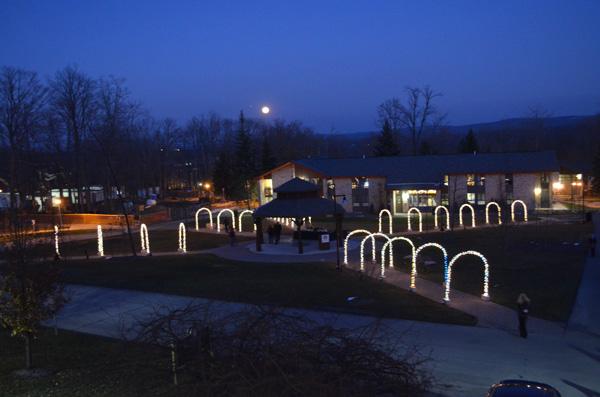 Pitt-Johnstown's University Square was illuminated with gold and blue light last Wednesday at the sixth annual Light-Up Night ceremony.
Serving as the kickoff to the holiday season, Light-Up Night is held to bring good spirit and winter joy.
The ceremony began with UPJ's Concert Choir performing "Carol of the Bells" at the University Square Gazebo.
Sodexo employees provided hot chocolate and baked goods.
Following the choir's performance of carols, Pitt-Johnstown President Jem Spectar spoke to a crowd of faculty, administrators and students.
Spectar originated the idea of Light-Up Night when it debuted in 2007
The ceremony originally consisted of lighting 10 Good Will Arches over the sidewalk between Blackington Hall and the Mountain Cat Statue.
The ceremony now consists of lighting 25 Good Will Arches over four paths to the gazebo.
"We have a lot to be thankful for, so we express good will," Spectar said.
Spectar said he is grateful for a fine university, caring faculty and brilliant student body.
When the speech concluded, the arches were lit.
Led by PJ the Mountain Cat, each attendee walked through the arches.
Each year campus organizations hold food and clothing drives at the ceremony.
This year, Pitt-Johnstown Staff Association Council members collected food and money for the Walnut Grove Emergency Food Bank.
"We did get seven full bags of food this year and a small donation," Staff Association Council President Sherri Rae said, "so we are pleased with those results."
Backroads members collected clothing donations at the event.
Other campus holiday happenings include Giving Trees, sponsored by Catholic Campus Ministry, and the Staff Association Council's annual Breakfast with Santa, for faculty members' children.
Council members are to hold a winter-themed,  door-decorating contest at offices. Judging is to take place this week.