Skating students kick boredom to the curb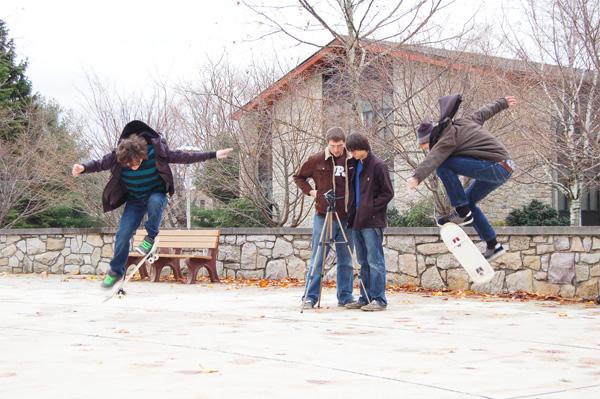 As the sun set Wednesday, a cooling shadow was cast over the Pitt-Johnstown campus mall with only the sound of skateboard wheels surfing concrete.
Krrrrrrrr snap! Crack! Krrrrrrrr…
"Did you get that?"  said Evan Johnson to the two-man camera crew after he landed a kick flip.
"Yeah, we got it," said freshman Gabe Stezoski.
Johnson skated to a stationary video camera, lifting it off a tripod and followed a second skater from a ground-level viewpoint.
"Whoa," said freshman Jesse Lock as he ran out of smooth concrete to attempt a trick.
Lock quickly stopped, leaving Johnson little time to react. Johnson dodged the blocked skater finishing with a 360-tail spin, camera still in hand.
Wiping the sweat from his brow, Johnson said he has been casually skating for four years.
"Jesse and I try to skate three days a week if the weather is nice…sometimes we meet up with a few international students and skate around the campus mall," Johnson said.
The four-man crew of two skaters and two cameramen usually stays within close vicinity the academic buildings while filming.
Lock said there are only a few skate spots on campus. The campus mall proves to be one of the best.
"We try to skate over at the community college across the street when we don't get kicked out…I think it happened twice so far," Lock said.
Lock said he started skating only two months ago and is slowly learning tricks.
"I can really only do ollies pop shuvits and kick flips…Evan can do just about anything." Lock said.
Johnson likes performing 360 flips, forward flips and viral heel flips.
Johnson said the group started to hang out and skate as a hobby when they did not have homework, but it has become more than that.
"We recently started filming with the intention to start posting the videos on a YouTube channel we are making…it is actually pretty cool because I am using the whole process for a final project in my University Scholarship class." Johnson said.
Freshman Tom Arthur and Stezoski do not skate, but have taken on the task of filming the skating.
Johnson said the crew purchased the camera and video-editing software.
"It's not the cheapest thing to do, but Jesses mom took care of the start-up cost," Johnson said.
As the last bit of shining sunlight faded out behind Blackington Hall, the crew finished the last few shots before calling it a day.