Professors pull polls into UPJ classrooms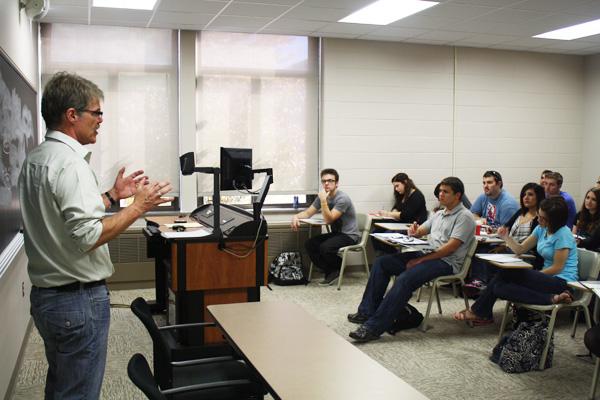 With the presidential election being less than a week away, most prospective voters have decided which candidate they think is most qualified to lead the U.S. for the next four years.
Although many minds may be made up, some Pitt-Johnstown political science professors have supplemented their usual instruction with election examinations to further inform students about candidates' claims.
Political science professor Chris Cook said he adds about 10 to 20 minutes of election discussion per week to his American Political Process classes.
"I like to shed truth on myths and misconceptions," he said. "Like (that) the president doesn't change gas prices. He just doesn't … there's certain restrictions on what you can do."
Political Science Professor Ray Wrabley said he began this semester by discussing the Republican National Convention with his Political Parties and Elections class.
Wrabley, Social Sciences Division chair said he strategically schedules a class every few semesters so discussions can relate to current events.
"I always time it for midterm congressional races and presidential elections," he said. "It's a heavy dose of the current election. We talk about debates and polls, among other things."
As political campaigns progressed, Wrabley said his class closely followed what happened.
"We've kept a spectator's bleacher seat as it's unfolded."
Sophomore Political Science major Santino Jaber said when there's a debate, the next class is dedicated to discussing it.
"After every debate we spend a class talking about the debate."
"(Professor) Wrabley really adds to what the candidates say," he said. "He keeps it pretty neutral, though."
Wrabley said an important part of discussing politics is making sure all viewpoints are represented in lectures.
"I try to make all views well known," he said. "I feel like I can argue any side."
Jaber said the class is composed of mostly upper-level political science majors, so discussions are informative.
"Everyone there knows their stuff," Jaber said. "I'm very liberal, so it helps keep you grounded — instead of just listening about your beliefs — by listening to what other people have to say."
Wrabley said he welcomes the challenge of teaching students who don't like politics, like students who may be taking an introductory course to fulfill a general-education requirement for graduation.
"I'm interested in people staying informed," he said. "It's kind of like a game for me, but I'm not always successful.
"I want students to take an interest in politics," he said, adding that he wants political science students to already have an interest and to add to it.
"I want political science students to be able to analyze what they see," Wrabley said.
Cook also said it's important for students to be politically savvy.
Based on education levels, most Pitt-Johnstown students will vote at some point in their lives, according to Cook.
"Statistically speaking, these people will vote … the more education you have, the more likely you are to vote," he said.
"So the overall goal is to teach students to be critical thinkers and citizens."