Barks' blessing offered at St. Benedict church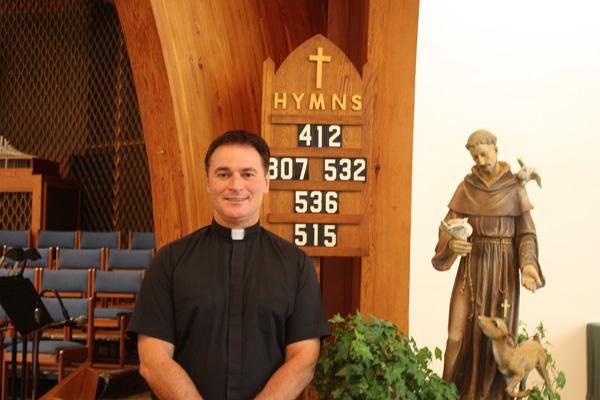 It was 12:50 p.m. Oct. 6, two days after Saint Francis Day, and two cars were parked in Johnstown's St. Benedict Catholic Church front, waiting for an animal blessing ceremony.
A husky could be seen in a car's seat window, pacing back and forth, as if checking the time on an electronic clock across the street.
As the number on the clock turned to 12:55, the husky jumped out from the car, accompanied by a woman. Five other dogs, led by their human companions, arrived in the next three minutes.
The Rev. David Peles, Benedict's priest, walked out the front door with a Bible opened to the Book of Genesis. He smiled and greeted everyone.
While waiting for the ceremony to start at the church entrance, guardians introduced their dogs to Peles.
Everyone formed a circle and the ceremony started with a reading from Genesis, praying together.
Peles explained after the ceremony, that Genesis recounts the story of God's creation for Christians.
"God has created all the animals, so it is a reminder that it is by God's hands that we receive all these wonderful animals into our lives," said Peles.
The second part was to put holy water on the animals as a blessing sign.
"The water is a visible sign of the blessing that has taken place," said Peles.
With the holy water on the animals, the ceremony came to an end. Animals went back to the cars and left with their guardians.
Peles said the ceremony was to celebrate St. Francis' feast.
"This past couple days we celebrate the feast of St. Francis who has a tradition of being associated with animals, and so, near his feast or on his feast day, there is the tradition of bringing animals forward to receive a blessing."
Peles also said the ceremony was held to thank God for His creation.
"It is our appreciation," said Peles. "God gave blessing to us, and we give blessing to the animals as a sign of our appreciation for what God has done for us."
He said animals provided a lot of things for us including food, clothing and labor.  They even provided good companionship and support for us."
According to Peles, the ceremony had been held at St. Benedict's Church the past four years. Other churches also hold animal-blessing ceremonies.
Peles said his church usually holds the blessing on weekends, so that more people have opportunities to attend.
Carleigh Ceglar, the youngest person at the ceremony, was holding a puppy in her arms.
Carl Ceglar, Carleigh's father, introduced the puppy as Gabbana.
"She (Gabbana) is two months old and it is her first time here," said Ceglar. "Because she is part of our family, she wants to be Christian, too."